The Flare Path: Is Worn To A Frazzle
Simulation & wargame blather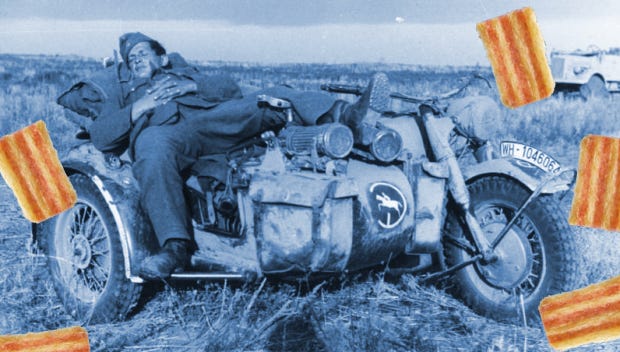 ...having spent the last seven days touring Scotland in an SA Scamp* on behalf of the 'Better Together' campaign. If you live in Dumfries, Stranraer, Ayr, Kilmarnock, Glasgow, Falkirk, Edinburgh, Perth, Dundee, Aberdeen, Inverness, Ullapool, Stornoway, Portree, Fort William or Balamory, you may, at some point during the past week, have seen/heckled/pelted a corduroy-suited Sassenach while he teetered on a soapbox and rambled about the Battle of Waterloo, HMS Hood, Eric 'Winkle' Brown, and the Collected Works of D.C. Thomson. That Sassenach was me. Apologies if the following Naval Action, X-Plane, Train Simulator, and Volo Airsport news snippets contain more typos and tripe than usual.
*And a BMW R75 (the Scamp expired on the outskirts of Prestwick)
Naval Action, the comely wet warfare game aimed at sociable Aubreys and Bolithos, began reaching out to Cooks and Tasmans on Sunday. Game Labs want exploration to be as profitable and prestigious a career path as privateering or naval service. Those that would rather make their mark with sextant and machete than cannon and cutlass will be Abel to spend their time nibbling away at the seafog-of-war that drapes charts, and venture inland in search of botanical and zoological horrors treasures.
By exposing coastlines, founding ports, scouting island interiors, and bringing home valuable information about tradeable commodities, inquisitive captains should prove invaluable to "trading and combat oriented guilds/companies".
As a man who's drawn to battered coastal ironmongery the way seagulls are drawn to battered cod fillets, the talk of wreck salvaging is particularly exciting.
"The world will witness a lot of combat; ships will be lost at sea. Explorers will be able to search the archives for maps of shipwrecks and raise them to the surface. most lucrative shipwrecks will likely be in dangerous waters, so it will be useful to bring friends if you are raising the treasure"
***************
Train Simulator underwent its annual automatic digit change yesterday. Proud owners of TS2014 are now slightly perplexed owners of TS2015. Among the questions being asked are "Why has the menu system been overhauled yet again?" (The new front-end feels clumsier and more cluttered than the one it replaces), "Have I missed something or is the much-talked-about 'TS Academy' really just a new name for the old tutorials?" and "Why do Dovetail think I want to listen to Sean Bean blather every time I fancy a footplate session?".
On the bright side, the free update brings scudding clouds to TS for the first time (though existing scenarios will need to be edited before they display them) and everyone gets to fall asleep at the controls of the sleek Hitachi EMU that will, circa 2017, elbow out Britain's iconic but ageing 125s from many express duties on the Great Western and East Coast mainlines.
If you acquire Train Simulator 2015 as a standalone sim rather than a gratis update, then you are - of course - tacitly approving Dovetail's scandalous anti-steam stance (TS2015's roundhouse is totally devoid of coal munchers) and will be tutted at mercilessly by Zoë from Accounts (a women whose high-calibre tsks have, in the past, created job vacancies in both the Cabinet and the Board of Governors of the BBC).
Talking of job vacancies, if you happen to be an unemployed flight sim fan with game industry and/or managerial experience, DovetailGames.com's situations vacant page should make interesting reading at the moment. Having recently licensed FSX and announced a future flight sim project based on Microsoft Flight tech, the Chathamites are evidently looking to bolster their staff with a bevy of plane-passionate designers, programmers and producers.
Does this sound like you?
Does it sound like anybody?
***************
After several months in beta, the "largest and most significant X-Plane update to date" finally deployed its thrust reversers on Wednesday. Now X-Planers can - thanks to the sophisticated default GPS that is '10.30's main feature - thumb their noses at fog, low cloud, and darkness. Based on the Garmin 430W the new gizmo should makes IFR approaches possible at even the most basic US strips. Unlike the old unit, it's fully compatible with the sim's own flightplan fashioner too. Also included in the update are 300+ new airports (Going by the ICAO codes, many of which seem to be in Germany) revamped cloud code, improved terrain textures, better undercarriage simulation, a host of improvements for aircraft builders, and numerous bug fixes.
***************
I'm reaching the point in the improbably invigorating Volo Airsport, where, should Ramjet Anvil decide to add cliff-nesting birds and an economic layer to the sim, I'm reasonably confident I'll be able to make a living as a high-velocity egg thief.
The second I've finished typing this, I'm off to try yesterday's patch - a patch that added ludicrous mid-air tucks, BASE-style spawn points, new camera positions, and reworked control sensitivity.
Thanks to Ramjet's generosity, the first ten people to send me (timfstoneATgmail.com) the identities of the four famous aviators name-scrambled below, will also be in a position to soar, cannonball, and CFIT their weekend away.
1. aerial earth ma
2. a recheck guy
3. a bred hornet
4. absurd leg ado
***************
The Flare Path Foxer
Newsflash! I've sacked Roman. Last week's Fawlty Towers foxer lacked durability (Sulphur-tipped savant Matchstick had the solution in under nine minutes) and, inexcusably, it failed to feature watery fowls, farty towels, or flowery twats.
a. Vickers Vildebeest (Matchstick, All is Well)
b. Sinclair Oil Corporation logo (phlebas)
c. Me 163 RAT (ram air turbine) (Rorschach617)
d. Torquay station (AbyssUK)
e. Catering Corps badge (Rorschach617)
f. Flak tower in Hamburg (Syt, Stugle)
g. Sherman from Sherman M4 (Syt)
h.US major's insignia (All is Well)
i. Barcelona metro map (Artiforg)
**************
The new Roman is a part-time tuning fork tuner called Tabitha. Tabitha's hobbies include musing, apologising, collecting caltrops, and attending flea circuses. In her CV she described herself as 'distant' and 'happy to get paid in biscuits' - two qualities I've always admired in a foxer setter.