The International 2017: And the winners are...!
Some truly amazing games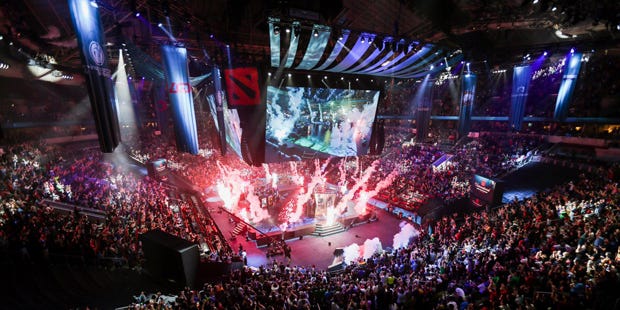 THIS IS YOUR SPOILER WARNING IN CASE YOU NEEDED SLEEP AT THE TIME BUT NOW WANT TO WATCH THE FINALE OF THE DOTA 2 INTERNATIONAL 2017 UNFOLD FOR YOURSELF!
Dota 2's International 2017 is over, and Team Liquid are its champions! The pan-European squad captained by Kuro 'KuroKy' Takhasomi swept China's Newbee 3-0 in the best-of-five grand final, earning themselves more than $10.8 million in prize cash and by far the competitive scene's highest honour, an inscription on the Aegis of Champions trophy.
It's a phenomenal result for a team that initially looked like they might be headed out early after losing the opening upper bracket game to Invictus Gaming. However, a lower bracket run that saw them best Team Secret, Empire, Virtus.pro, LGD Gaming and LGD.Forever Young (LFY) led them all the way to this dominant grand final - the first 3-0 grand final in the International's history. Even more impressively, it wasn't their only match of the day – they'd had to play a stunning lower bracket final against LFY in the hours beforehand.
Let's look at that intense MOBA amuse-bouche first, then.
The lower bracket final started off well for LFY, who employed an effective tactic of Du 'Monet' Peng (as the tanky Lifestealer) rushing Liquid while Xie 'Super' Junhao's Sniper laid into them at range. A sneaky split-push by Lasse 'Matumbaman' Urpalainen bought Liquid some breathing room, but LFY maintained control, sealing the deal with a wonderfully chaotic teamfight within Liquid's base. (The vid below should start with Matumbaman's ratting but head to 12m19s for that teamfight!)
Game 2 saw even more action, with too many noteworthy individual plays to actually list here, but this time it was Liquid finding the favourable trades, allowing Amer 'Miracle-' Al-Barkawi's Alchemist to get terrifyingly rich. LFY tapped out at only 31 minutes in, though the game felt over long before that.
Game 3 had another explosive start for Liquid, and even when LFY managed to get six kills out of a five-man team, they were still losing barracks to yet another split-push play. Hope crept back in for supporters of the Chinese side as LFY picked up another three kills at Roshan's pit, despite a cheeky Aegis snatch from Ivan 'Mind_Control' Ivanov:
But an even better fight for Liquid just three minutes later was too much for the erstwhile tournament favourites and they simply couldn't come back from that.
Thus, Newbee (who'd won Friday's upper bracket final against LFY) faced off against Team Liquid in the most important Dota 2 match of the year. Game 1 began with another immaculate early game performance from Liquid, Maroun 'GH' Merhej's Slardar and Mind_Control's Nature's Prophet always in the right place at the right time. Newbee had constructed a relatively delicate lineup for the game, centered around a Song 'Sccc' Chun mid Lina, and it just couldn't stand up to the intense physical damage of Matumbaman's Lifestealer and Miracle-'s Troll Warlord.
There was a reversal of fortunes at the start of game 2, Newbee chaining successful ganks to build up a healthy lead in kills and gold – even with Miracle- running another greedy Alchemist. However, Liquid's attempt to sneak a Roshan kill at around the 25 minute mark turned into the successful teamfight they so desperately needed, and with momentum back on their side, that Alchemist was soon able to sit hitting Newbee's base buildings with near-impunity. A kill on Xu 'Moogy' Han's buyback-less Anti-Mage secured Liquid the game, and match point.
Game 3 was even for ages, neither team carving out a big lead until a full-scale clash at – wouldn't you know it – the Rosh pit:
Support duo GH and KuroKy's ultimates tore through a bunched-up Newbee, who still managed to hold their base for a while longer. They even came close to a vital kill on Miracle-, who was playing Juggernaut, as he went for a Double Damage rune – but then, in the biggest turnaround play of the final, he managed to grab the rune, survive Newbee's initiation with mere pixels of health on his health bar, Omnislash-bounce his way out of the melee, and kill three of his attackers while his teammates piled in to take care of the rest.
From there, it was a simple case of chopping down the Chinese team's buildings. One last, heroic base defence by Newbee wasn't enough to prevent the first 3-0 grand final in TI history. The full match highlights are below or you could enjoy a retrospective series of heart attacks via the full Twitch VOD.
While this result denies Newbee the distinction of being the first organisation to claim two TI wins (their captain Zeng 'Faith' Hongda would have been the first individual player to win it twice) it does feel particularly poignant for Liquid to come out on top. KuroKy is one of the longest-standing DotA and Dota 2 veterans, finally getting his name on the Aegis with a team he assembled and led himself. GH is now a world champion after not even playing on a top team until November last year, and Miracle-, the prodigious pubstar made good, found redemption after his shock exit from the 2016 International as part of OG. Not to forget about Matumbaman and Mind_Control, of course – one is the very model of a stable, reliable carry, and the other is a world-class offlaner who repeatedly proved instrumental in securing Liquid's early game advantages, especially on Nature's Prophet.
Congrats to all!
We now look towards the next season of professional Dota. There are big changes afoot, what with Valve's ambitious new Majors and Minors system (which will apparently run on a monthly basis – hopefully leading to constant wizard fight thrills and not exhausted burnouts) and, more imminently, the traditional post-TI roster shuffle.
Until next time!