The Sunday Papers
Read more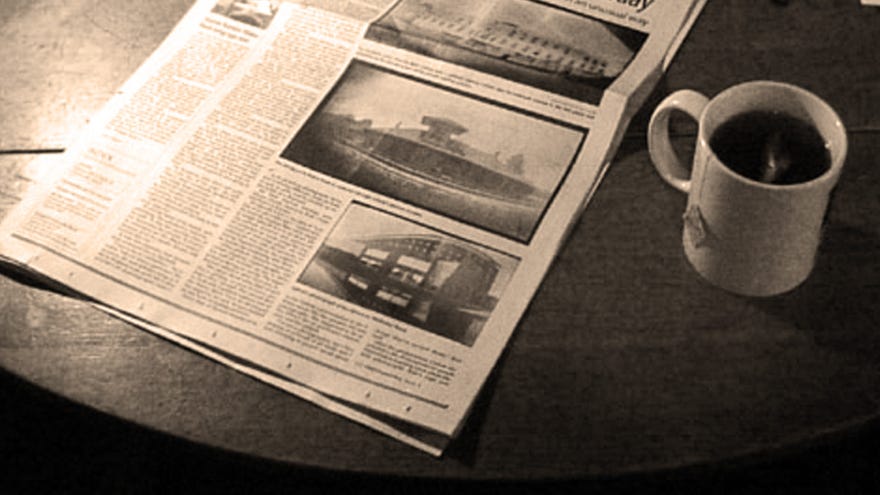 Sundays are for marvelling at the sun sticking around for longer each day. Before you enjoy the extra light, let's read this week's best writing about games (and game related things).
Over on The Guardian, Dominik Diamond wrote about his son moving out and playing one last game with him. Diamond plays A Way Out with his son, which is both funny and surprisingly moving. Couch co-op is great, I miss it.
Best of all? The slow pace and ludicrously easy gameplay allow us to talk while playing. I've never really done that before. But every part of this game provides a launching pad for chat. A scene where they go fishing has us reminiscing about catching mackerel off the dock of an island in Atlantic Canada when he was five, then cooking them on a fire. Glorious days that this game helps us relive. Although we used actual fishing rods, as opposed to branches sharpened with a knife while on the run from the cops in a forest.
Blake Hester interviewed Ikumi Nakamura for Game Informer on life and death and her upcoming projects. Granted, this isn't a super recent interview, but hey, that's not going to stop me. A transportative read, both into the 'gaps' in Tokyo and into the inner reaches of Nakamura's mind.
That gap existing, though, means the new is encroaching on the old. Like most major cities, Japan is losing part of its history as new buildings replace old ones and gentrification makes its way through the nation. Quite literally, from where we were standing just minutes before, the new blocked the old out-of-site. If I look up towards the sky, I see the skyscrapers looming over this little time capsule we're standing in – like the universe is sending me an obvious metaphor. For Nakamura, though, this is the natural order of things.
For Eurogamer, Ed Nightingale spoke to Gareth Damian Martin about Citizen Sleeper being a game "about now". Another interesting interview about Sleeper's personal influences and its refugee stories.
That's how I think of science fiction. I love to read science fiction from the 80s. And when you read it, it's got nothing to do with the future. It's got everything to do with what was happening in the 80s. [With Citizen Sleeper] the first thing I wanted to talk about was this experience that I'd had myself, but also that I felt was more widely seen in my generation from what I've observed, which is the experience of feeling precarious or precarity. And I think precarity was the starting theme for me. Why is it that we think of ourselves as being very precarious? And how is it about the real risks we're exposed to? And trying to model some of that with the dice system.
Over on Games Industry.biz, Rob Fahey contemplates Zelda: Tears Of The Kingdom and what it might mean for the Switch successor. I know, I know: we're a PC gaming website. Still, I thought this was an interesting piece on where Nintendo is now (spoiler: a good place) and where its hardware goes from here.
Moreover, just from a purely Nintendology perspective, it's been six years since the company launched a new piece of hardware – and I'd wager it's got an itch to do something new. This is a company that proudly sees itself as a toy company, first and foremost, and consequently has always erred on the side of innovation with hardware updates, building them around new concepts that have at turns both wowed consumers (motion controls, dual screens on a handheld) and left them shrugging or confused (3D screens, the whole Wii U thing).
Music this week is Tuesday Fresh Cuts by Bree Tranter. Here's the Spotify link and YouTube link. My mate gave me a late night lift and popped this on. Immediately added it to my "Liked Songs".
That's it for this week folks, take care of yourselves and see you next week!