Wot I Think: Avadon: The Black Fortress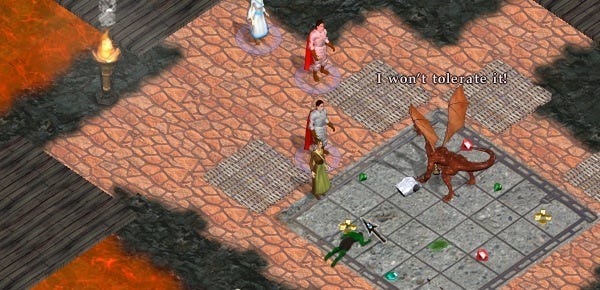 Avadon is Jeff Vogel's latest RPG; a roaring saga of dark politics and glorious face furniture. It'll give you hours and hours of questing... but will it show you a good time as you slay giant spiders and screw with the fate of nations? Well, let's see Wot I Think...
Zhethron is a dragon. Dragons have scales. Dragons have hoards of gold. Dragons have arrogance and age and power, and very little patience for the ramblings of fools. This dragon also has a PA. Her name is Thara, and her hobby is teasing her giant red boss. What does he demand as the price of his advice? "More cows," Thara confides. "Fatter cows. Someone to clean up after him. The sort of things asked for by dragons, the lazy, and invalids."
"I hear every word of this!" screams Zhethron, his voice echoing through the chambers of his endless volcanic lair. "I shall devour you the next time you return to me!"
Thara just rolls her eyes, winks, and promises great riches if you help her out with a relatively minor errand. Lavish rewards! Pounds and pounds and pounds of gold, straight from Zhethron's very own hoard! "You can negotiate a better deal than that!" roars the dragon, and while you can't actually see him, you just know he's clawing his eyes in frustration.
So does Thara. It wouldn't be any fun for her otherwise...
This is the kind of moment that makes a game special, and Avadon has many of them. It's the latest RPG from Jeff Vogel, and if you're an RPG fan, that's a name you should either know already or prepare to get very familiar with. His games aren't pretty. They're not polished. There's no orchestral music - no music at all, really - and no voice acting. Yet hidden behind their simple sprites and old-fashioned tilesets beat some of the most entertaining concepts around, from Geneforge's focus on your character being able to create life on a whim, to all of his games' emphasis on making important choices that affect the world around you in ways that really, only The Witcher has bothered offering commercially in recent years.
Avadon is slightly unusual. Vogel's RPGs aren't as hardcore as they might look - at least not on their regular difficulty settings. This one actively tries to be a friendlier game, stripping out some of the complexity and making it easier to get started. You start by choosing one of four pre-built characters, choosing just their name. Levelling up is based on a very rigid skill tree that makes it tough to screw yourself over with a bad choice. There's more focus to the action too, with the titular fortress of Avadon acting as a central base, and your missions sending you out into the wider world via teleporters in a largely linear way - albeit with choices to make while actually in the field, and plenty of optional quests to take on for extra XP and resources.
Hardcore fans have already complained that this makes the game feel dumbed down, although 'simplified' and 'streamlined' are arguably better words. I can safely say that this side of the game never bothered me, though it's worth noting that combat is usually the thing I care about least in an RPG - as long as it's adequate - and I was playing through on Normal difficulty, which was a reasonable challenge without forcing lots and lots of replay. What interested me far more was the story and its characters, both of which offer some refreshingly different gimmicks.
The high concept of the game is that Avadon, your new employer, is the power that holds together several neighbouring countries with a careful mix of support and fear. Think of it as the UN, with the Gestapo as its intelligence division, and an approach to keeping the peace that involves burning a troublesome city to the ground and pointing out that at least the ashes aren't going to be causing any more trouble. Your boss is a man called Redbeard, an avuncular chap who makes a point of welcoming all his new recruits with a big smile and a welcoming pat on the back... but also sets wolves on them to make sure they can handle themselves, and guarantees that anyone who tries to screw with him regrets it for a very, very, long time. There's a man in Avadon's dungeons who's been alive, numbed, for decades in a stasis field, purely as a salutary example for any future assassins. He's one of the luckier ones who survived.
Your job? To keep Avadon's power secure so that it can keep 'protecting' the land. Or alternatively, work to destroy it from the inside. Your choice, bearing in mind that this is the kind of world where it could well be the maggot-filled lump of evil it appears to be, or the stern rod of protection it claims to be. Or maybe something in the middle.
What this means in real terms is that no matter how heroic you think you are, you're no hero. People call on you to solve their problems as a last resort, and begrudge being expected to pay for, or rely on, your services. If they don't actively resent your boss, they're terrified of what you represent - and even if you're there to help with the best will in the world, your presence is a lingering reminder that Avadon has Noticed Them. Little good ever comes of that.
As usual in Vogel's games, Avadon's writing is excellent. It efficiently drafts out the rules of both the castle and the world in short order, then immediately sets itself to exploring it. You soon become very familiar with everything from the structure of Avadon itself (a caste system made up of Hands, Eyes and Hearts) to the religions and rules of the lands surrounding it, and quickly notice the little extra flourishes, like the regular Guards being described as having greater respect for you when you talk to them after your first mission than when you swaggered in as a raw recruit, or the way the rest of your party often chips into conversations or offers observations on the cultures and locations you encounter. The graphics are very simple, and you often have to make some serious allowances to buy into what they're showing you (a person standing behind some stocks to indicate they're inside them, or a few stones on the ground representing an impassable cave-in), but the world itself is big, detailed, and very well crafted.
Despite the premise though, much is business as usual. You may be a Hand of Avadon, capable of bringing the hammer down on anyone who dare oppose you... but don't expect to demand they unlock their doors and give you all their stuff for free. You aren't even equipped by Avadon itself for the most part, due to an unconvincing explanation that Redbeard prefers you to fund yourself in the field, and that this is better because it means you get to use whatever you like in combat instead of being reliant on the Fortress giving you what you need. Your character is meant to nod approvingly at this. A more appropriate response would be "Hmmm..."
Underequipped or not though, you do frequently get to enjoy the fun of pulling rank though, which is always fun, if often only for roleplaying purposes rather than actually getting you anywhere. Similarly, more than a few enemies see you and immediately shout some varient of "Oh, shit, you're a Hand! I surrender!" to reinforce your status in the world. The only downside of this is that it really, really draws attention to how often you get fobbed off when you try to force an issue, and how little consequence your decisions often feel like they have.
(It's also notable that for all Avadon's threat and danger and politicking, you're still able to start the game by walking up to your boss, the most feared man in the entire world, tell him straight to his stupid red beard that you'll only follow orders if you feel like it, and not end up hopping away due to your entire right leg being shoved lengthways up your own arse.)
Combat is the bit where many people are going to get annoyed, either because it's slow and turn-based, or because I just said something mean about it being turn-based. I'm sorry. I don't like turn-based combat much. To be specific, I think it's absolutely fine in proper battles, where it adds an extra strategic edge to taking on a pack of trained soldiers or giving you scope to use brains and brawn when taking down a boss. What I can't stand is when every last encounter with pointless trash enemies slows everything down to a stop. And Avadon has a lot of trash.
In fairness, yes, this is fairly typical fare for RPGs in general... but it's something I invariably have less tolerance for in story heavy games. I want to be sucked into the plot and its pacing, and while I don't mind fighting monsters per se, having to duel ten Giant Spiders just getting from A to B simply isn't my idea of fun at the best of times - much less when it means stopping and starting and wasting turns as everyone gets into scrapping positions. Even if you cheat and switch the difficulty down to Casual, it's more than a bit of a chore.
Against the actual bosses and set encounters though, the turn-based approach is entertaining. The use of specific character classes makes it an easier introduction than most, and it's not long before you have a backpack full of wands and potions and other handy tools to help you out. Against bosses and other scripted encounters, I had no real issue with it. It demands proper tactics, without being harsh and unforgiving - characters knocked out in battle simply get up again at the end of it for instance - and the game is good about warning you when you're about to be locked into an encounter by a cave-in or something so that you can make a quick save or head out and level up a little bit before risking a difficult battle you're not ready for.
(And yes. If you love turn-based combat, consider my whinging exactly that.)
As reasonable as Avadon is about its main mechanics, it does have its unfriendly side too. The graphics are easily ignored, but the interface is frequently a pain - to name a couple of minor irritations, pressing 'i' opens the inventory but doesn't close it again, and while you open chests and containers by clicking on them, you have to keep remembering to press 'g' to pick things up off the ground itself. Some of the questing mechanics can annoy too, by not telling you that your work is done and it's time to go home, or not letting you chase a monster across a level transition because you haven't unlocked the next map yet. Small things, yes. But still irritating.
If you think you can tolerate the occasional rough edge though, Avadon has much to offer. It's an enjoyable story, well told, and packed with great characters - of the main party, Nathalie the psychopathic mage quickly became a favourite, bouncing effortlessly from complaining that nobody understands her genius to staring up at another mage's magic tower, effectively announcing "It will be mine. Oh yes..." and mentally trying to decide on the best wallpaper. It's a different kind of story to your average RPG, but one that slides much better into the shades of grey of something like The Witcher than the pure dungeon-hackery of your average independent RPG. As simple as it looks, it's one of those games that's very easy to fire up for a few minutes, only to be magically transported without supper to 5AM the next day.
As ever with Vogel's games, there's a demo available - and it's huge. It unlocks into the full game for $25, letting you keep on playing where you left off. By the time you're asked to make that call, you'll know if you're up for the rest. If it's your first time playing a Spiderweb game though, make sure to give it a chance to impress you. It has a slow start that might put you off, and it's never going to be a game that wins out with raw production values, but that doesn't mean it can't more than hold its own in terms of plotting, character, scale and heart.