10 Minute Barbarian Is Exactly What It Sounds Like
Has a demo too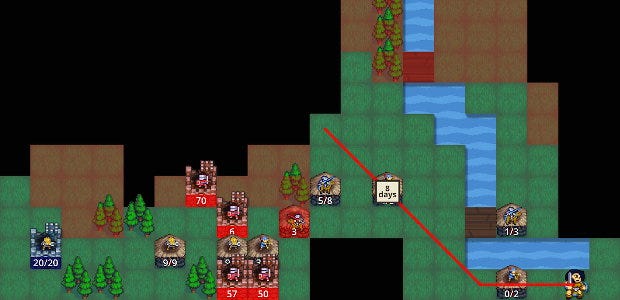 Some people say that Hemingway's short poem "For sale: baby shoes, never worn" is great because of the enormous size of a story it hints at in such minimalist prose but I think we all know it's actually good because it's really, really fast. In this mile-a-minute world of vines and GIFs I just don't have time for anything that requires more than seven seconds of recollection.
Enter 10 Minute Barbarian [official site], which is exactly what it should be.
"I've been working on this game, 10 Minute Barbarian," Studio Puffer's Wolff Dobson told us. "I wrote it because I love sprawling strategy games, but I only had 10 minutes in which to play them."
You build an army, you explore, you attack a castle wall, you defend yourself against a dragon. It's all about 10 minutes long. It is madness. It's wonderful. You can play a demo for free on Studio Puffer's site, or check it out on Steam Greenlight. The demo gets you the first three levels of the game, which is slated to officially launch sometime this summer on Windows and Mac.