Punch! Kick! Zeno Clash 2!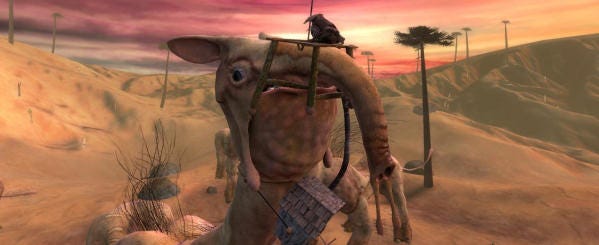 ACE Team have just announced the excellent news that they're already working on a sequel to Zeno Clash, the first-person beat-em-up we poured praise upon last month. Zeno Clash 2, as it's currently known, will take place after the events of the first game, continuing the adventures of Ghat, this time in a larger world, with mysterious "RPG elements".
There's to be more about Father-Mother, the peculiar Golem about whom so little was revealed, as well as promised new characters. ACE Team also explain that it's going to be a bigger game this time. Interestingly so.
"ACE Team wants the next installment to be much larger in scope, so the new game will feature open ended gameplay with large explorable environments and RPG elements. The unique melee combat system that made the first game a success will also be expanded to feature even more brutal and engaging gameplay."
There's also news of a new patch for the original Zeno Clash, which amongst fixes and so on will add health and time counters for the Challenge Mode. And there's promises of new DLC for the game due in a few weeks.
Zeno Clash 2 is currently in super-early stages, but as soon as there's more details we'll grab ACE by the collar, punch them three times, then knee them in the face until they tell us all about them.