20,000 Atmospheres is full of buttons to press
PULL EVERY LEVER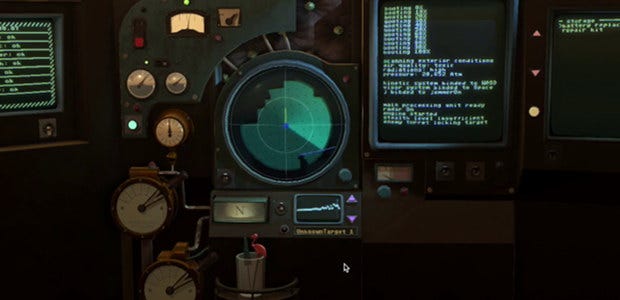 I do like games where I control machinery through a (virtual) physical interface, yanking on levers and tapping buttons on a control panel. The upcoming 20,000 Atmospheres [Itch page] adores fiddling too, putting players in the cockpit of a legged submarine-sort-of-thing walking across the surface of a planet with a crushing atmosphere (so a supermarine?). Pull levers, press buttons, and try not to die terribly as your doodad stomps, clanks, and hisses across the planet. Here, watch this trailer:
Oh dear oh dear. A+B Games call the roguelikelike "a Jules Verne meets Frank Herbert story set in a dystopian reality," where everyone lives underground and only a chosen few will get to visit the surface in a nauti-crawl unit. You are not one of the chosen. You should not be on this clanking beast. You do not know how to pilot it. You will probably die. Well done, you.
Creator Andrea Interguglielmi has been posting snippets and GIFs on his Twitter too.
Splendid stuff! No firm word yet on when 20,000 Atmospheres will launch but I am digging what I'm seeing.
If you like tugging on levers and pressing buttons and have played all the obvious games, I have a lesser-known pair to recommend. Pol Clarissou's Offline is a nice ghost train, and Trawl by Nate Gallardo (a pal o' mine) and Danny Gallagher has pleasing repetitive actions to haul in spooky booty from the depths of the sea. Pressing buttons and pulling levers is great.