Machinimagic: Valve Announce Saxxy Award Winners
The best Source engine films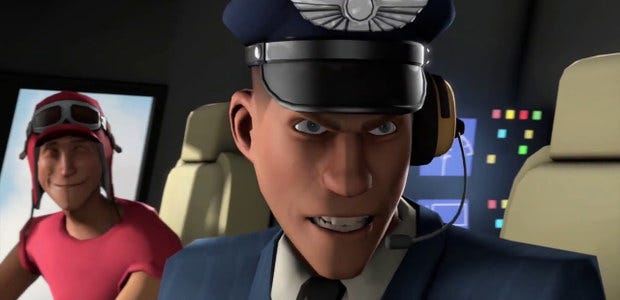 "Laughter is the best medicine," say people who are about to discover laughter actually makes a broken nose worse. Laughter's pretty okay, though, as are other emotions - and creative mediums can help stimulate them. Valve have rolled out the red carpet (it smells rusty?) for the year's finest Source Filmmaker machinima, little films mostly starring Valve characters, declaring which are the bestest best so you too can easily experience such human emotions as Action, Comedy, Drama, Short, and Extended.
Team Fortress 2 characters star in most of the finalist films, which I imagine is partially because they're lovable and silly characters with hundreds of lines of recorded dialogue folks that can repurpose. You'll also find brand new original characters and settings, a few Doters, a Left 4 Deader, and gosh, is that even a Half-Lifer? What times we live in!
"But Alice," you may say while checking your watch and excitedly jiggling your leg, "I don't have time for all of those emotions! I cannot possibly watch all the category winners, let alone all the nominees. Is there one emotion which stands above all others? Do we not have one emotion that's simply e.g. Overall Winner?"
We do, and if Valve are to be trusted then this will fill you with it:
Pip is currently on a plane, and I'm enjoying imagine her face as she's surrounded by 200 hollering Scouts.
Valve say all winners will receive a virtual Saxxy Award in Team Fortress, will the folks who made us feel Overall Winner are flown out to hang with Valve. They point out a few more films they liked too, if you have time for all of the emotions.