A decade after its announcement, genre-bending Defender's Quest 2 returns
The RPG/tower-defender is coming to PC later this year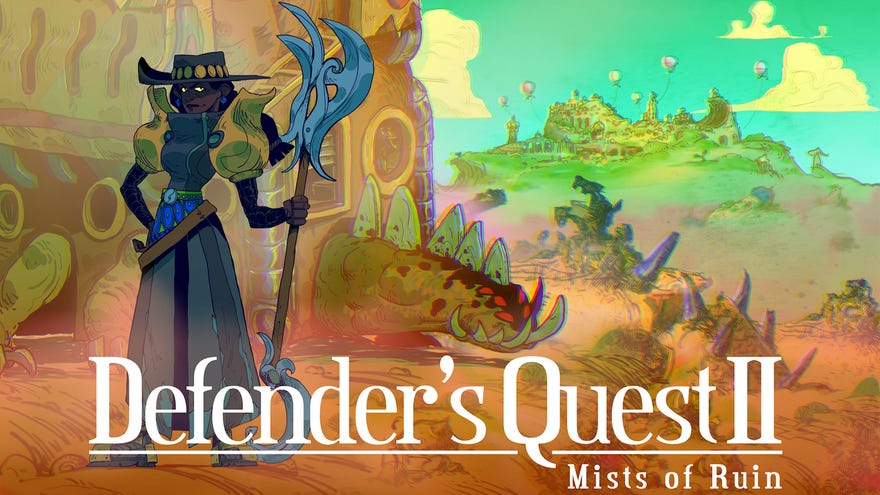 You may remember Defender's Quest: Valley Of The Forgotten as the beloved early-2010s game that swapped the towers in tower-defence, with humans that you could level up and customise. Essentially an RPG/tower-defence hybrid. You might also remember that a sequel was announced before it somewhat fell off the map - you probably don't remember since it happened a decade ago, to be fair. Regardless, Defender's Quest 2: Mists Of Ruin is now ready to re-emerge into the public's consciousness with a 2023 PC release.
Developer Level Up Labs and publisher Armor Games have released a new trailer to mark the re-announcement:
The sequel is bringing back the real-time tactics while revamping the series' art style. Old DQ had lo-fi, 2D pixel art; new DQ instead has hand-drawn, 2D illustrations. The fantasy world of The Shining Lands has gotten notably darker in the time between the games. What was once an oasis has now become drenched in toxic gas called Mirk, forcing you (with a ragtag crew) to cross the lands and detox it. Defender's Quest 2 is being penned by Xalavier Nelson Jr. (disclosure incoming), the writer behind An Airport For Aliens Currently Run By Dogs, Space Warlord Organ Trading Simulator, and other cool games with exorbitantly long titles.
All the fun RPG progression is trekking over to the sequel, too. You'll be playing the game from multiple perspectives, all while building a roster by recruiting new heroes, sliding through their skill trees, and unlocking new equipment.
For hardcore DQ fans, this might not be fresh news since developer Lars Doucet has been updating the community with semi-regular progress reports. The rest of us can enjoy the cold slap of deja vu. Defender's Quest 2: Mists Of Ruin will launch on PC via Steam this year, followed by a console release later. The original genre-bender is also still available.
Promised disclosure: Xalavier Nelson Jr. used to write for RPS. He's now a developer on too many games, including Defender's Quest 2.