A Game of Thrones: Genesis Screenshots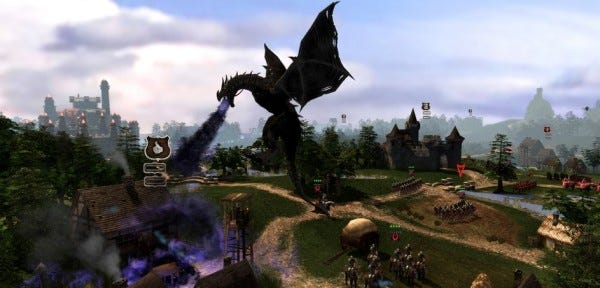 Whoa. Cyanide Studios, them of Blood Bowl fame, are releasing a fantasy strategy game based around George R.R. Martin's unspeakably excellent A Song of Ice & Fire novels this summer. I did not know this. Apparently Big Download did, and remained as cool as a cucumber posting these first two screenshots. I hope that one day RPS will be as cool as Big Download. Until then: EEEE! And also: Hang on...

The game is entitled A Game of Thrones: Genesis, after the first book in the series. The above screenshot shows a dragon. Except there aren't any dragons in A Game of Thrones. They're extinct, or thereabouts. Can we assume from this that the "Genesis" subtitle means the game will be covering the battles that led up to the first book? Maybe, maybe.
There's also the below artwork. What is that, exactly? Is that The Wall?
And I've just found the press release down the back of the Castle Shotgun sofa. Here you go:
"A Game of Thrones - Genesis", Cyanide Studio's new strategy game for PC, adaptation in a video game of the successful saga A Song of Ice and Fire by George R.R Martin, finally unveils itself! We invite you today to discover the two very first screenshots taken from this real-time strategy game, in which your political prowess will be as important as your strategic and military skills!

Thanks to a well-developed single player campaign written under supervision of the author George R.R. Martin, "A Game of Thrones - Genesis" immerses you into the heart of the battles and intrigues between the Houses that shaped the Kingdom of Westeros. Live the origins of the A Song of Ice and Fire saga through more than 1000 years of History, and take part in Westeros' founding events and largest battles such as Aegon the Conqueror's invasion on the continent or the War of the Usurper.

In this great strategy game, victory does not necessarily result from brute force. You can choose to use a military approach and besiege your opponents, strangle them in an economical war, or even use dirty tricks and diplomacy to politically crush them. Treachery and deception are everywhere, so watch your back and prepare for battle!

A Game of Thrones - Genesis will be released on PC in summer 2011.
This, of course, means we have two adaptations of A Game of Thrones to look forward to. Are you lot pumped about the upcoming HBO TV series? I think it might just be the best thing ever. What do you think, readers?