Acer Nitro 5 review: A budget gaming laptop with one massive flaw
Take Five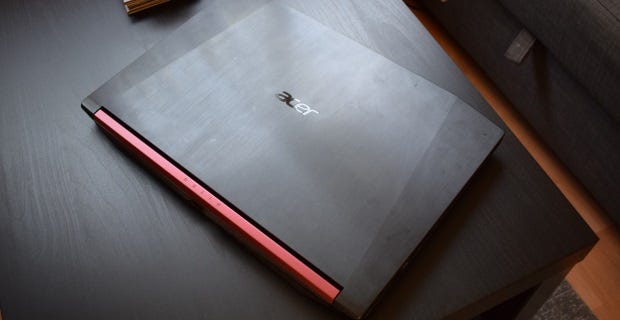 'Gaming laptops' and 'cheap' aren't words that normally go together. Decent machines need well over a grand to be sunk on them. But Acer's Nitro 5 is a stab at making a budget laptop gaming around the £800 / $900 mark.
At that price, you get an Intel Core i7-7700HQ processor (you'll have to wait for one of Acer's Predator Helios laptops before we get a proper 8th Gen Coffee Lake model unfortunately), 8GB of RAM, a 15.6in 1920x1080 IPS display and a full-fat 4GB Nvidia GeForce GTX 1050 graphics chip - or a GTX 1050 Ti, if you're in the US. Let's see if it's any cop.
Acer fit these innards into a chassis that's both simultaneously proud and shy of its gamer credentials. There's a simple Acer logo on the faux carbon fibre lid - which picks up fingerprints pretty easily - rather than a dragon, angry eye or some other semi-obnoxious decal, but the Lamborghini/stealth bomber look favoured by so many gaming laptops does rear its head with its sharp, angular edges, large vents and burnt red trim.
Specs:

CPU: Intel Core i7-7700HQ, 2.8GHz
RAM: 8GB, 2133MHz (up to 16GB)
GPU: Nvidia GeForce GTX 1050 4GB
Storage: 1TB HDD, 128GB SSD
Display: 15.6in IPS 1920x1080
Dimensions: 390x266x26.8mm, 2.8kg
Lift the lid and such stylings continue with the red accented, backlit keyboard sat in the middle of a chunky black plastic chassis, which seems to attract dust with gusto. It's hardly the most hideous gaming laptop I've ever seen, and from some angles can look pretty subtle. You will, however, probably feel like a berk breaking one out at a coffee shop, or indeed anywhere where there are other humans with functioning eye balls.
Still, none of this really matters when you're powering through that Steam backlog on the go, right? Wrong. While those Macbook and ultra-slim laptop coffee slurpers are all tinkering away on their DCI-P3 rated screens with picture-perfect image quality, the Nitro 5 has possibly one of the worst Full HD displays I've ever encountered on a gaming laptop. That's right - we're talking Dell Inspiron 15 7000 Gaming levels of bad here, and it really undermines the laptop as a whole.
There are a few redeeming features. Brightness is decent at around 280cd/m2 and I measured a respectable contrast ratio of 1072:1. That's not bad as far as these things go, but the screen's black levels came in at a disappointing 0.26cd/m2 (the closer to 0.00cd/m2, the better), turning dark scenes in games like Doom into slightly washed out shades of grey rather than inky blacks.
But it's the display's colour accuracy that really lets the Nitro 5 down, despite the use of an IPS panel. I don't expect a budget gaming laptop to have the best screen in the world for serious photo editing, of course, but a mere 57.7% coverage of the sRGB gamut just isn't good enough.
Those figures translate to poor colour representation in games. The vibrant hues of rampaging Lizardfolk in Total War: Warhammer II are reduced to bland shades, and it sucks all the glorious impact out of The Witcher 3's dappled sunsets. It's a bit like viewing a watercolour through a pair of sunglasses; all the colors lack punch. I'd much rather shell out some extra cash and have an oversaturated display - perhaps something like the OLED screen on the Alienware 13 - than this dull piece of work, and it makes the laptop as a whole feel much cheaper and budget than it actually is. I've seen plenty of other gaming laptops from Acer and I know they can do better, so the Nitro 5's display is a bitter pill to swallow.
At least the Nitro 5's performance is slightly easier to digest. Intel's quad-core 2.8GHz Core i7-7700HQ is a tried-and-tested processor for most gaming laptops, and it managed a decent GeekBench 4 single-core score of 4407, and 12,520 in the multi-core test. That's all good news, but when you're only dealing with a GTX 1050 on the graphics card side of things, it isn't the processor that's going to be the bottleneck here. Instead, I'd argue you'd be better off with the Core i5 version of the Nitro 5 in this case, as the GTX 1050 doesn't really have the pixel pushing power to make the most of the Core i7's processing chops.
Either way, you're looking at a competent 1080p gaming machine here, albeit with a few compromises. The GTX 1050 simply isn't powerful enough to hit a steady 60fps on max settings in most of today's demanding AAA games, but you're still looking at getting at least 30fps at the upper end of the graphics scale, if not more.
Booting up Rise of the Tomb Raider and cranking everything up to Very High, for instance, the Nitro 5 averaged an acceptable 42fps. Medium settings got the closest to 60fps (with a few judders), but High was probably the sweet spot in my eyes, hitting a perfectly playable average of 50fps – although it should be noted I saw some drops to 30fps when the action started to heat up a bit.
Indeed, if you're after 60fps in The Witcher 3, you'll have to drop everything to Low, which just looks a bit flat and ugly if you ask me. Instead, I found Geralt and his pal Roach looked rather more pleasant on the High preset running at 30fps; it's not ideal, but I'd rather have a bit more detail on hand even if it means the occasional judder when splitting drowners in two.
The same can be said of Hitman, which looks lovely maxed out running at an average of 35fps, again providing you grin and bear through the odd frame rate drop. As for Total War: Warhammer II, though, you can pretty much forget about pushing much beyond its Medium preset, though, as this delivered an average of 39fps in its built-in battle benchmark and 45fps over on the campaign map.
Fortunately, Wolfenstein II: The New Colossus and Doom proved to be much slicker. The former when set to Mein Leben graphics generally ticks along well over 60fps, and it's the same story for Doom, which runs nice and smoothly with everything set to Ultra.
Only Assassin's Creed: Origins proved too much for the Nitro 5. With everything maxed out, the game's internal benchmark achieved an average frame rate of 29fps, but it's about as stable as a chair made of jelly. Even after I dropped the settings to Low, the frame rate was still choppy, averaging out at 56fps but bouncing between 60fps and the mid-40s. While perfectly playable on a technical level, visually it's a disaster, with the drop in visuals definitely not worth the pay-off in frame rate.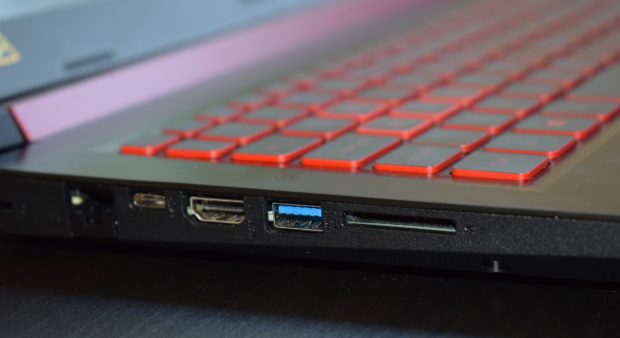 Still, if the idea of gaming somewhere in the 30-50fps region without spending an absolute fortunate on something more powerful sounds like your cup of tea, then the Nitro 5 won't disappoint. I'd probably say it puts on a show that's at least of a similar quality to console gaming, which isn't bad for a machine you can pop in a backpack and lug around with relative ease.
The keyboard isn't bad, either. It's a full-sized affair until you reach the trimmed down number pad and direction keys, which can be a little fiddly to navigate when touch typing, but it's perfectly comfortable enough for everyday work and gaming alike. Personally, I would have liked a little more key travel, as zipping around in fast-paced shooters (looking at you, Doom) can feel a tad numb, and there's a bit of flex in the keyboard tray as well. While not particularly pleasing, at least the rest of the chassis felt reasonably sturdy.
If only the Nitro 5 didn't have such an abominable screen, which also has a worrying amount of flex while we're on the subject of build quality. If it had a better display, it might be worth spending £800 / $900 on it. As it stands, however, it faces stiff competition from Lenovo's ugly-as-sin £970 / $1159 Legion Y520 and Asus' marginally prettier £900 ROG Strix GL503VM, both of which come with a superior 3GB Nvidia GeForce GTX 1060 (although in the US, the Asus goes for a lot more at around $1455). Really, though, the Nitro 5's biggest problem is the Alienware 13 - yes, it's only got a 13in screen as opposed to 15.6in, but all models now come with that lovely OLED display that Katharine loved so much earlier in the year. With the cheapest model starting at £1099 / $1399, that's a much more tempting offer than either the Lenovo or the Asus.
If you find the Nitro 5 with a couple of hundred pounds/dollars shaved off the price (and ideally in a Core i5 and GTX 1050Ti configuration), then it might be worth snapping up as a reasonably portable PC gaming machine on the cheap. Otherwise, it's best avoided.