Adventure Time: Pirates Of The Enchiridion sets sail today
Come along with me~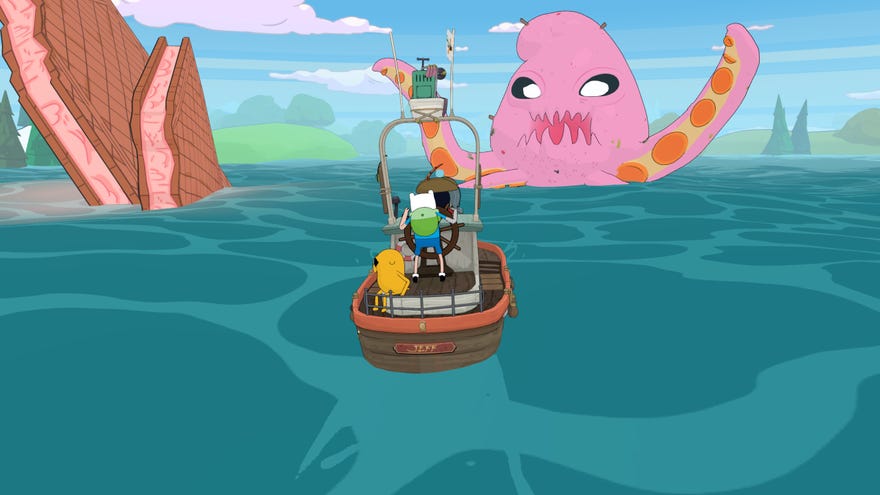 Adventure Time remains one of my favourite cartoons ever, but so far none of the games based on it have done its weird and wonderful world and characters justice. Pirates Of The Enchiridion looks to be closest to the mark so far - a seafaring RPG with turn-based combat, released today. Below, an authentic-looking launch trailer featuring the full TV voice cast.
Those unfamiliar with the show may feel lost just looking at this trailer, but here's my attempt to summarise: Finn is a human boy, and Jake is a yellow talking stretchy dog. They live in the Land of Ooo (where Candy and Slime are elemental forces), mostly doing hero stuff. When they're not, they're hanging out with princesses, a vampire queen and the occasional cosmic god. It's intensely daft, but that hasn't stopped the show from telling a winding, complex and often dark story in bite-sized 11 minute chunks.
Pirates Of The Enchiridion sets these characters off on a silly nautical adventure. Something is flooding Ooo, so it's time to ride around in a ship, righting wrongs, investigating mysteries and getting into a lot of simplistic turn-based fights. A quick look at initial reviews suggests kid-friendly difficulty (befitting a Cartoon Network flagship), so don't go expecting tactical challenges. That said, there's some praise for how closely it adheres to the show's tone, so this might be worth a spin for series fans. I've still got my fingers crossed.
Judging by what we see in the trailer above, Pirates Of The Enchiridion is set quite late in the show's timeline, perhaps giving us one last chance to pal around with these characters before the final episode airs this September. Finn and Jake have been through a lot over the years, so it's nice to see them getting to go on one last big dumb adventure before we have to say goodbye.
Adventure Time: Pirates Of The Enchiridion is out now on Steam for £25/$30/$30.