One Pixel's Perfect: Adventures Of Pip
Adventures of Ben is a different kind of tale about putting on weight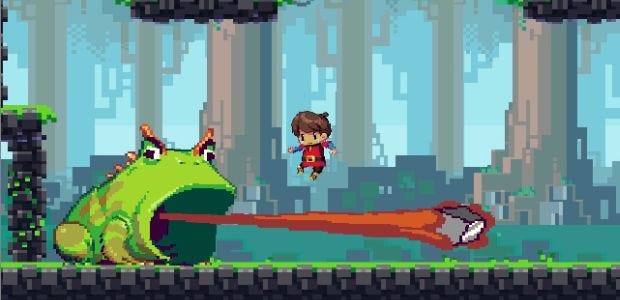 2D pixel-art action platformers are everywhere, but Adventures of Pip has gone somewhat meta with the idea. Up on Kickstarter for $40,000 (call it £24,100ish), it's about a pixel called Pip that's attempting to save his fantasy kingdom.
The hook is that, as you progress, new levels of detail will be unlocked, transforming pip from a simple block and into more complex shapes. More pixels means more powers but also a larger and heavier frame, meaning that switching between them all is the key. The same, cute idea pervades the world, extending to more powerful enemies having higher visual detail. There's a pitch video below if you've enough pixels in your heart to click through.
To state the obvious: this looks cool and I want to play it. Games that know they're games such as DLC Quest, or those that incorporate glitches into their lore or mechanics, really push my buttons. The dev team, TicToc Games, have been around since the GBA era too, and that's influenced their art. They're therefore more experienced than many Kickstarter squads, albeit mostly in the spheres of licensed and mobile games.
In an interview at E3 they showed off some more game footage and talked about their plans for the future after their first failed Kickstarter back in May. That probably explains the longer-than-normal running time for the new one, and the lower funding goal. Hopefully they'll be getting the mentioned demo out as soon as possible, as it's a surefire way to increase interest. The release target is January and at time of writing there's still plenty of $10 early bird get-the-game rewards left.