Afraid Of The Light: The Flock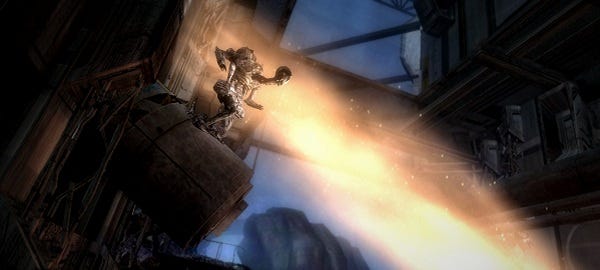 The Flock has one of those trailers that contains almost no information about the game but I forgive it for two reasons: the artwork is evocative and strange, and the extended version of the video includes a section at the end in which the lead designer explains all. The Flock are beasties that look a bit like broken skellingtons with u-bends as necks, as seen in the picture above. Rather than running around and shooting at the creepy blighters, players will actually be them. The first little flocker to find the solar capsule, which casts a beacon of light into the darkness, will transform into The Carrier. At this point The Flock work together to murderise the poor sod but the light from the capsule kills them. Intriguing.
Switching roles mid-game and becoming vulnerable in order to win are both ideas that I approve of. I'm half-convinced there was a similar game, possibly many moons ago, but I have no recollection of its name. Any ideas?