Poirot Takes On The ABC Murders
As easy as ABC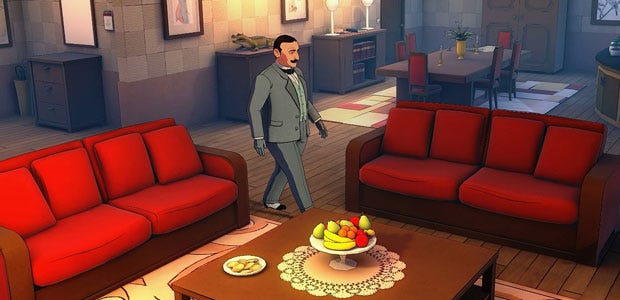 "An adventure game based on Agatha Christie's The A.B.C. Murders" - it's like someone deliberately laid a Pip-trap.
Well it worked. I have now watched the trailer exactly THRICE:
The A.B.C. Murders is a Hercule Poirot mystery where the killer (who signs off in letters as A.B.C.) appears to be working through the alphabet when it comes to victims. Also present are regular companions Detective Chief Inspector Japp and Captain Hastings.
I've both read the book and watched the TV adaptation featuring David Suchet (multiple times) so I'm not sure quite how well the game will hold up given I know the clues and the killer pretty well. I think when there was a Nintendo DS version you had an option to play through with a different killer - an idea which really didn't appeal although Wes Yin-Poole, writing for Videogamer, called it a "thoughtful, and welcome, addition".
The game is beign developed by Microids and is due for release in summer 2015. I was going to watch the entirety of David Suchet's Poirot again as diligent research but it's not on Netflix anymore and I think my sister has my DVDs. DRAT.