En-sob-le: Age Of Empires Online Goes Offline
Not with a bang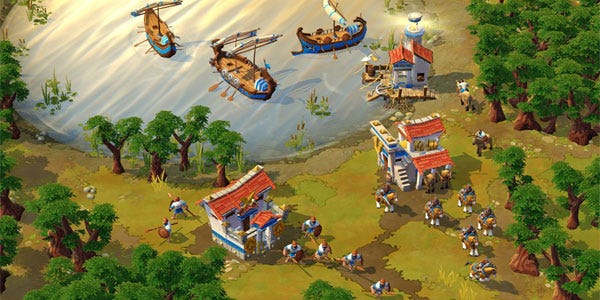 Microsoft may be claiming that it's redoubled its efforts on PC, but it hasn't had much to show for it yet, Games For Windows Live is dying at an agonizing pace, and now Age of Empires Online is naught but ash and memories. Servers are now offline, never to be seen again. It's a shame because AOEO had potential despite a litany of flaws, and also look at that acronym. Say it out loud. Ayy-ohhh-eeee-ohhh. Fantastic. Teary eyed goodbye from the game's last dev team below.
The dev team (or, well, whatever team remains; the game ceased development last year) posted a short farewell:
"None of this would have been possible, of course, without our friends and partners at Robot Entertainment and Gas Powered Games. They were the architects of the ancient world where we fought and played together. We were ambitious and risky with AOEO in a number of respects; some of these experiments worked, and some did not. As the saying goes, I do think that we ended up among the stars, most of the time."

"The most thanks, though, belong to you, the players of the game. It has been a pleasure and an honor serving you all. Thank you for the time you have spent with us, exploring all these little worlds together and conquering them for the glory of your Alliance and your Empire. Thank you especially for the times you spent with each other, in PVP matches, in co-op quests, and in the forums and the rest of the internet. Thank you for playing."
So there you go. Farewell, Age of Empires Online. We knew ye well enough and we thought ye were alrig