Slow Boat: Age Of Mythology - Tale Of The Dragon
Chinese Mythology-themed expansion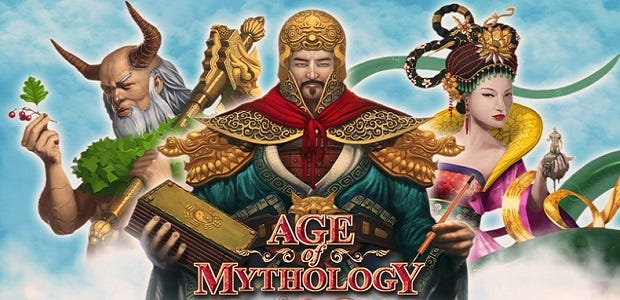 Not content with creating a new expansion for Age of Empires 2 HD, developers Forgotten Empires have announced that they'll be releasing Tale of the Dragon, a Chinese mythology-themed expansion for the Extended Edition of Age of Mythology [official site]. Thirteen years since the original release and twelve years since the previous expansion, Titans, this announcement marks a New Age of Mythology, although presumably with fewer crystals and astrological cycles.
Alec enjoyed his time with Age of Mythology: Extended Edition, up to a point:
"It's a happy mix of good, old-fashioned, getting-on-with-it building and surprisingly large-scale battles with varied armies. It's oddly, lackadaisically-paced compared to today's gogogo real-time strategy, though you can very much see the seeds of the intensive multi-tasking that has increasingly come to the fore."
I find the idea of games receiving updates and additions more than a decade after release reassuring. In this digital age, I half-expect all of my games to vanish overnight because somebody mucked up a licensing agreement, so the ongoing development and expansion of the Age series is a pleasing occurrence. An island of unexpected continuity within the sea of uncertainty.
Quite what the Tale of the Dragon will involve, we don't know at this point. There's a livestream planned for October 2nd but for now we just have these words from Forgotten Empires:
"13 years. It's been 13 years since the release of Age of Mythology on PC. And 12 years since the release of its expansion pack: The Titans. But for great games like Age of Mythology, these years are merely a number. It's time for a new expansion pack! With the collective experience and with expansions for the Age of Empires II series, Age of Mythology almost feels like the next logical step, although next time we probably shouldn't wait over a decade before taking on the challenge.

"Many of you already guessed it after the sneaky teaser at E3 and a lot of speculation has been seen across the community boards, but now the word is officially out: Age of Mythology: Tale of the Dragon is being created by Forgotten Empires and SkyBox Labs and will be the next part in the legendary series."
Looking forward to it. In the meantime, here's a trailer for the Age of Empires II expansion.