Along the Edge Is An Exquisite-Looking Visual Novel
Angstin' for you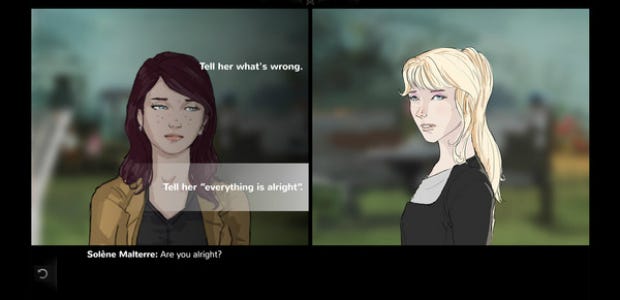 I'm a big visual novel fan. Typically I go for games like Saya no Uta or something of that sort, but it's a genre I'm well-versed in. That's why I'm interested in Along the Edge [official site], an adult-oriented tale that touts player choice as one of its biggest features, noting that you can't change how your character looks or behaves at the beginning of the game, but it all changes as things wear on. It's probably just a bunch of marketing speak, but nevertheless I want to see what it's about.
Set in the European countryside, it follows young Daphné, who's unsatisfied by her personal and professional life. So she jumps at the chance to move to a different part of the country after inheriting a family house. It's up to you to decide what she does with her "new beginning" of sorts.
At a glance, the game looks incredibly angsty, like Daphné herself will lay about and feel sorry for herself a lot, but I can forgive that because it's such a pretty visual novel. I really dig the painting-like scenes and character designs. Supposedly there are over 450 handmade illustrations with 80,000 words in English and French, which makes sense as the developer Nova-box is based in Bordeaux, France. There are also 60 different endings apparently, so there's plenty to work through.
The game has been sold on Itch.io for a while but it's now on Steam for £8.99/11,69€/$11.69, if you're curious like I am. It's on Windows, Mac, and Linux.