Alpha Colony Kickstarter Fails By $28, Dev Is Sorta Glad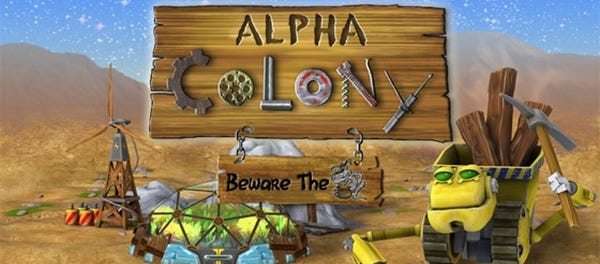 The videogames tragedy of the weekend appeared to be the second Kickstarter failure of the Catan and M.U.L.E.-inspired Alpha Colony, which reached its deadline with just twenty-eight piffling dollars left to earn if it was to gain its $50,000 funding. This seems powerfully heartbreaking, and much discussion has centered around why the dev couldn't find a small fistful of dollars from somewhere to take the "family-friendly exploration, building and trading sim game" over the line. For its part, Kickstarter has declined to bend its rules and fund the project anyway - which seems mean but is, I think, the right decision if it doesn't want to open an explosive can of precedent worms.
Turns out they didn't entirely want the Kickstarter to succeed anyway, disappointed though they may be.

The issue is/was that dev Christopher Williamson, of Dreamquest, had originally sought $500,000 for Alpha Colony, but closed down the initial Kickstarter when it became apparent this wouldn't happen, though $100k had been pledged. So he returned with another KS looking for just a tenth of that mighty sum, which wound up $28 short when the line of death was crossed. This may have been a good thing.
"Although many consider this a failure and unfair, in the end, it is perhaps the kindest thing the universe could have done for us," Williamson told Gamasutra. "To be committed to deliver my dream game underfunded, understaffed, and sub-par, and to lose even more time and money would have been even more heartbreaking." He reckoned that, after staffing and pledger incentive costs, he'd have been left with very little with which to actually create meet his ambitions for the game. As such, they'd put up the deliberately low $50k Kickstarter "in the hopes that we could at least achieve the same $100k level we got before."
Additionally, they'd secured outside funding that would have seen all pledges essentially doubled by private backers and the Colorado Film Incentive Program, though this would have still left the project a long way short of the $500,000 it originally desired.
This may explain why some method of getting the game over the line was not found, although Williamson claims it was simply a matter of being out of cash and untapped allies by that point. "Despite all the snarky posts by others, I had already contributed an extensive amount of my own money to the Kickstarter and called in many favours and would need to do so again to succeed." He is nonetheless "very disappointed" and claims to be $60,000 down as a result of development work on the game to date and the dual attempts to crowd-fund the game - as well as apparently been trying to make it for 14 years.
"For now," the devs wrote on Facebook, "our team needs to feed our families, so we are going to focus our efforts on projects with more immediate demand and financial rewards such as getting Championship Spades out for tablets and smartphones as well as updating our existing card and board game lineup for desktop PC and Mac." They are also exploring other means of finding funding for a possible future third swing at Alpha Colony.
So, er, yay? No, not really. There is no real positive outcome of what sounds like a very messy situation, and one that throws a harsh light onto the disparity between the public perception of game costs (for large projects, at least) and the reality of some of them.