And So It Begins: Steam Summer Sale Started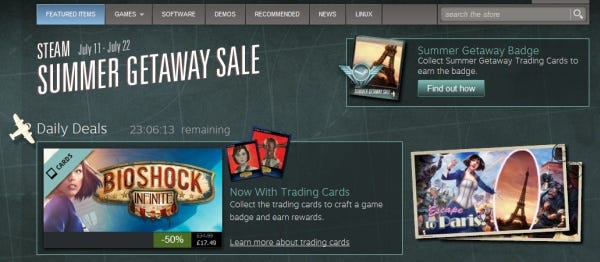 Get ready to empty your bank accounts into the chasms of Valve's gold stores, because their Big One has started, and is going to last 11 days. So much so that the website is a bit hit and miss at the time of writing. The in-Steam version seems to still be working right now, however, and is currently offering the usual collection of very slashed prices. This time with their new trading card gubbins throughout, whatever they are.
It's a rather lacking design this summer, sadly. The usual cartoon characters haven't made an appearance yet. But still, prices.
So right now you could grab yourself BioShock: Infinite at half price at £17.49, or the excellent Call Of Juarez: Gunslinger for just £8. Don't Starve is just over £7, and there's Endless Space down to £8.50. And as ever, Valve's stuff is displaying epic discounts, with all of Half-Life at £13.50, and Left 4 Dead 2 at £3.75.
Post the best bargains you find below, and we'll keep an eye out for anything particular special over the next week and a half.