Anno Where I'm Going: Unknown Horizons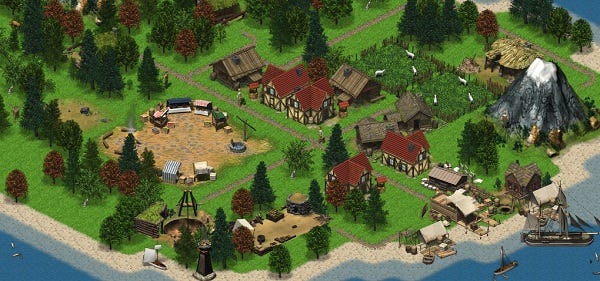 It seems like the correct time of day to lift spirits with a free, open source economic simulation game that takes place in a randomly generated archipelago. Thankfully, Unknown Horizons is just such a thing and it's a damn fine one as well. The project was originally intended to be an Anno clone but it has evolved from those beginnings to become its own master. With economics, diplomacy and combat already handled well, it's already a tiny slice of delicious isometric cake and regular updates along with its open source nature mean all manner of fancy ingredients should be added. Download here or watch a video showing the latest features below.
The game has been in development for a good while now but I only discovered it this weekend. It's pleasant to find an ambitious indie game that's already stacked full of features and in such a playable state. Maybe I should retire from the internet for four years and come back to find all the alpha projects I'm following not only completed but scooped up by major publishers and polished to a dazzling sheen.