AOC unveil first FreeSync 2 monitor, the AGON AG322QC4
HDR for the AMD masses?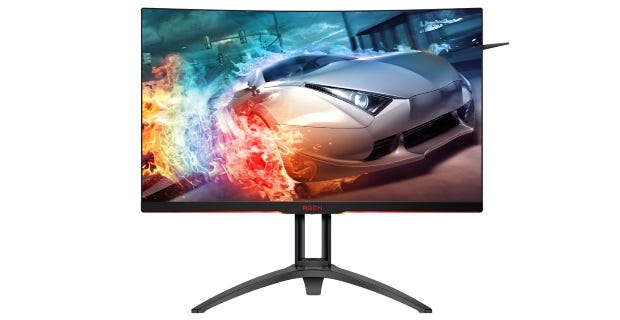 The vast majority of PC gamers may own Nvidia graphics cards, but when it comes to the world of gaming monitors and adaptive frame rate technologies, AMD rule the roost. The reasons for this are unknown. Perhaps it's because AMD's FreeSync tech (see our best gaming monitor guide for more info on the Free vs G debate) doesn't require monitor companies to pay an extra royalty fee, thereby making FreeSync monitors cheaper than their G-Sync rivals. Or maybe it's AMD's way of pleading with monitor buyers that they really should, please, just get an AMD graphics card.
Either way, there's another FreeSync monitor about to hit shop shelves, this time in the form of the AOC AGON AG322QC4. This one, however, is a little different. While it's the company's first display to get the snazzy FreeSync 2 certification, which should hopefully mean it has similar image quality and high dynamic range (HDR) credentials to the preposterously wide Samsung CHG90, it's also got a VESA DisplayHDR 400 rating. Here's what's what.
Coming in at 31.5in across the diagonal, the AG322QC4 has a curved, 16:9 VA panel with a 1800mm curvature radius, 144Hz refresh rate and a 2560x1440 resolution - so far, so good. The VESA DisplayHDR 400 rating, meanwhile, means it must have a peak brightness of at least 400cd/m2, as well as specific black level, colour gamut and 10-bit colour depth specs. That's not quite as bright as the CHG90, which ended up hitting a peak of 500cd/m2 with FreeSync 2 enabled, but we'll have to wait until I get one in for review to see exactly what the AOC's capable of.
The AG322QC4 also has a Low Input Lag mode like the Samsung CHG90, which should hopefully reduce its 4ms grey-to-grey response time (grey-to-grey meaning how long it takes for one pixel to turn from grey back to grey again) even further, according to AOC. It does this by bypassing most of the video processing done by the monitor itself, allowing for your mouse and keyboard movements to translate quicker into actual movements onscreen. This may, of course, affect the monitor's overall image quality, but if you're into your twitch shooters and your esports, it may be a worthwhile trade-off.
Being a gaming monitor and all, you won't be surprised to hear the AG322QC4 comes with all manner of gaming modes as well. FPS, RTS and Racing are all catered for here, but you can also save your own presets and assign them to the monitor's bundled wired remote OSD control if you wish.
Meanwhile, the stand (or the brilliantly-named Ergo Base, as AOC call it) will offer height, tilt and swivel adjustment as well as a retractable headphone holder for your favourite headset. You'll also find a 2-port USB3 hub and LED light options on the lower bezel. Because it's a gaming monitor.
The good news is that the AG322QC4 won't cost anywhere near the Samsung CHG90's asking price of £1075 / $1100. Expected to arrive in the UK this June, the AG322QC4 will go for a far more palatable £529. Thank the monitor gods.