AOC Agon AG352UCG review: The Final Fantasy XII monitor quest continues
A-gone with the wind?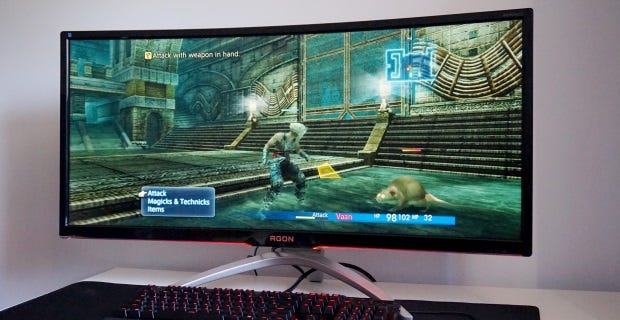 As I continue my quest to find the best ultrawide monitor for playing Final Fantasy XII, the next display in my party roster is the AOC Agon AG352UCG. Equipped with a 100Hz refresh rate, Nvidia G-Sync support and an LED-laden lower bezel, this curved, 35in 3440x1440 monitor has almost everything you could possibly want for the ultimate 21:9 experience. Almost.

Let's start with what the AG352UCG is missing. The biggest omission by far is the fact its single HDMI input only supports the 1.4 standard rather than the newer, and more 4K-friendly, 2.0 standard. This is pretty critical for a high resolution display like this, as it's only with HDMI 2.0 that you're able to run a full 4K resolution (3840x2160) at 60Hz. HDMI 1.4, on the other hand, is limited to 30Hz at 4K, which rather restricts the type of frame rates you can get when you're playing games.
Now, this isn't a full 4K monitor, so we're not looking at a drop right down to 30Hz. What we are looking at, however, is a cap of 50Hz, which is the maximum refresh rate offered to me by Windows' display settings when I hooked up its bundled HDMI cable. Switch over to DisplayPort and you can bump that all the way up to 100Hz for high frame rate gaming.
In a way, it's not the end of the world that it only has HDMI 1.4, as you'll also need the DisplayPort to take advantage of its Nvidia G-Sync support, too. This helps prop up the frame rate if your Nvidia graphics card isn't quite up to the task of pumping out all those pixels at a steady pace and it also helps eliminate screen tearing, dynamically adjusting your monitor's refresh rate to match the number of frames it can handle. This means games appear smoother for maximum viewing pleasure - that is, you won't see Balthier's beautiful face torn in two if your graphics card does a stuttery cough during a busy battle scene.
Then again, when the cheaper Philips 349X7JEW comes with both HDMI 2.0 and HDMI 1.4 support in addition to DisplayPort, it starts to make the AG352UCG look a bit inflexible, especially when it costs so much more (thanks, G-Sync). You also only get two USB3 ports as opposed to four on the Philips, but at least one of them is still capable of charging your phone on the sly once you've actually enabled said function in the onboard menu system.
Its lack of ports may be a bit disappointing, then, but thankfully the AG352UCG's AMVA panel puts in a commendable performance. Spreading 3440x1440 pixels over a larger 35in screen may mean it has a slightly lower pixel density than its 34in rivals (106 pixels per inch, or PPI, as opposed to 110 PPI), but its colour accuracy is right up there with the very best, as my i1 Display Pro calibrator showed it was capable of displaying an impressive 99.3% of the regular sRGB colour gamut.
I had to adjust its User colour temperature profile a bit in order to get that figure, all told, but I only had to make a couple of tweaks to the red (shunting it up to 53) and blue (lowering it down to 48) values to balance out the green (which remained at its default position of 50). If that sounds like too much hassle, though - and it probably will be thanks to AOC's rather infuriating navigation controls - the fixed Normal colour temperature profile is your next best bet, as this covers 97.8% of the sRGB gamut straight off the bat.
However, while AOC's colour accuracy may be top notch, it still falls behind the Philips 349X7JEW on contrast and black levels. Not by a huge margin, and one you're unlikely to see or notice by sight alone, but if you're judging a monitor solely on its numbers, then the AG352UCG's contrast ratio of 1633:1 obviously isn't as good as the Philips' 1896:1. On my calibrated User profile it came in even lower, too, at just 1281:1.
I'd expect more considering it has an AMVA panel (or advanced multi-domain vertical alignment, if you want the full acronym breakdown - see our best gaming monitor article for more info on all the different panel types), which is generally meant to have better contrast than its TN or IPS-based counterparts. Still, I didn't find it to be a particular hindrance in games, and the dingy details of Final Fantasy XII's murky Rabanastre slums remained perfectly visible at all times.
One thing I did notice, though, was that the monitor's viewing angles tended to take a bit of a hit when I wasn't looking at the screen dead-on. It wasn't disastrous, but looking at it off-centre resulted in a minor shift in both colour and contrast. This is something I've seen on a lot of curved screens before, but this is the first time it's caught my eye in quite some time.
The AG352UCG's black levels were also a fraction higher than the Philips, measuring 0.18cd/m2 on full brightness as opposed to just 0.13cd/m2 on the 349X7JEW, but you've got better eyes than I do if you can spot the difference between them. Besides, no one can stare at a screen set to 270cd/m2 for very long anyway, and when I lowered its brightness down to about 50%, the black level fell accordingly, coming in at a much tastier 0.09cd/m2 (the closer to 0.00cd/m2, the better). There's also a low blue light option in the onboard menu to help reduce eye strain even further, too.
One thing the AG352UCG does have in its favour is its black and silver design, which I greatly prefer to the swathes of white plastic on the Philips. Its large AGON logo and go-faster LED strips on the back and lower bezel are a bit over the top, but thankfully the latter can be turned off or made less overt using the onboard menu. However, for those of you who dig such things, you'll be pleased to hear you can change the colour from red to green or blue depending on your preferred colour scheme.
The monitor also has plenty of adjustment options, including height, swivel and plenty of tilt for easy setup, and I particularly like the fold-out arm for hanging up your headset on the back. The only potential spanner in the works is that its 2000mm curve radius and chunky metal base give it quite a deep footprint, so you'll need a lot of free space on your desk to squeeze it on.
There's also the small problem of the AOC AG352UCG costing £760 / $770, which is about £90 / $120 more expensive than the Philips 349X7JEW. A large part of that is what I like to call the G-Sync tax, which always adds a hefty premium onto any kind of display, but it's still pretty eye-watering nonetheless. The 349X7JEW, on the other hand, is an AMD FreeSync screen, which typically don't tend to attract the same kind of prices as their G-Sync counterparts.
Of course, there are some people with Nvidia cards who wouldn't dream of spending this kind of money on a screen they couldn't fully utilise (and the same goes for AMD owners looking at G-Sync screens), but as an Nvidia card owner myself, I have to say the Philips is still a pretty tempting deal in this particular case. Even if both monitors cost the same amount of money, I'm not sure the AG352UCG does quite enough to come out on top. Its ports don't offer as much flexibility, its menu is a pain in the backside, and its viewing angles just aren't quite as good. All in all, the Philips is still my number one choice in this Final Fantasy XII monitor showdown at the moment, but this may well change when Acer's Predator Z35p steps up to the plate in a couple of days time. All will be revealed shortly.