Apple reject iOS Steam Link app
Still available on Android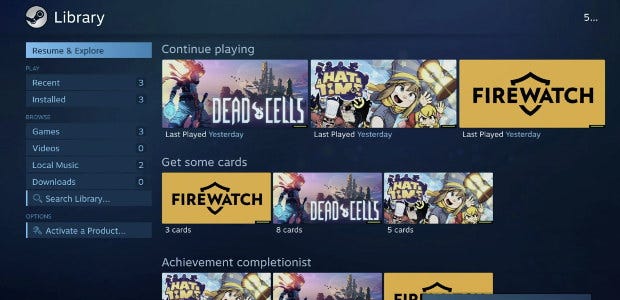 Apple have rejected the iOS version of Valve's Steam Link app, the doodad which lets people play their Steam games on pocket telephones and digislates, after initially approving it. Valve have appealed the rejection and been shot down, so this is probably the end unless Apple have a change of heart. If you've been hoping to park in bed playing Slay The Spire on your iPad, hard luck. The app is still available on Android doodads, mind.
Valve's statement laid out a timeline:
"On Monday, May 7th, Apple approved the Steam Link app for release. On Weds, May 9th, Valve released news of the app. The following morning, Apple revoked its approval citing business conflicts with app guidelines that had allegedly not been realized by the original review team. Valve appealed, explaining the Steam Link app simply functions as a LAN-based remote desktop similar to numerous remote desktop applications already available on the App Store. Ultimately, that appeal was denied leaving the Steam Link app for iOS blocked from release. The team here spent many hours on this project and the approval process, so we're clearly disappointed. But we hope Apple will reconsider in the future."
The Steam Link app works like the Steam Link dongle for televisions, running games on a PC, accepting inputs from whichever device you're using, then streaming the output back to you as video over the local network.
Valve don't explain the "business conflicts" but it's probably something to do with the app linking into another software store - and one Apple don't get a cut of. Ah, it's terrible when a digital store approve your products then turn around and removes 'em.
If you want Steam Link on Android, nab it here. Dominic Tarason didn't have the best luck with it on his banged-out clapper of a phone, though our Graham has had better luck. Ars Technica got to test a beta version of the iOS app this month but I guess the rest of us won't see that.
Maybe I should use this so I can play Slay The Spire on my tablet rather than having a laptop by my bedside. Both are clearly unhealthy ideas but a tablet seems at least marginally better?