ARK's third expansion, Extinction, likes its critters large
Look at the size of that lad!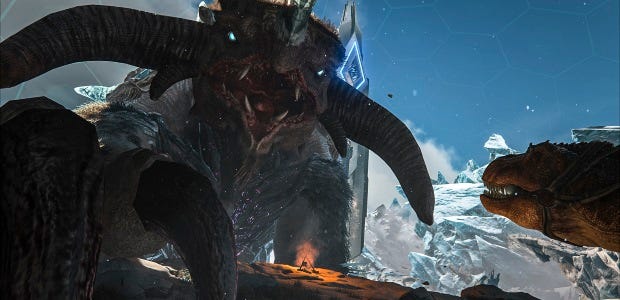 Sure, you might have tamed yourself an entire stable full of T-Rexes, but humans aren't the apex predators in Ark: Survival Evolved anymore. At least, that's the only conclusion I can reach when looking at a beastie with claws as big as your enormous dinosaur steed. Announced just today and due for launch this November is the third (and possibly final) expansion to the game, Ark: Extinction, featuring new environments, new tech and some very large monsters.
While it looks like you'll be limited a little to big environmental domes, the Extinction expansion is taking the game back to Earth, or at least the post-apocalyptic, overgrown remnants of it. It also sounds like this might be the final expansion, with your ultimate goal being to slay the Titans roaming the planet (one of which you'll see in the trailer below) and 'complete the Ark Cycle'. That definitely has a final-sounding edge to it.
Looking at the trailer above, it's almost easy to forget that Ark is still a surprisingly janky survival sandbox capable of bringing even top-spec PCs to their knees. I honestly would love to play a solo or small-scale co-op game that played how Ark's expansion trailers look, but real gameplay tends not to live up to the target-render concepts, even if they are in-engine. Still, the game remains enormously popular, so it has clearly found its niche, even if there's not room for me in there.
The road to Extinction's release will be accompanied by a series of special events in-game. Over the next few months, new Explorer Notes will be scattered around all three existing maps in the game, and collecting them will unlock new skins as well as filling your head with lore fluff. The first wave of this content is already in the game, featuring a corruption-themed helmet skin, and adding the intimidating sounding 'Tek Rex' to the world, which I'm guessing will bring the game one step closer to the Dino Riders ideal.
Ark: Extinction will be released on November 6th, and is part of the Ark: Survival Evolved season pass, which is currently discounted down to £17.49/$22.49 on Steam.