Ark: Extinction stomps onto a ruined Earth today
Rrrroar!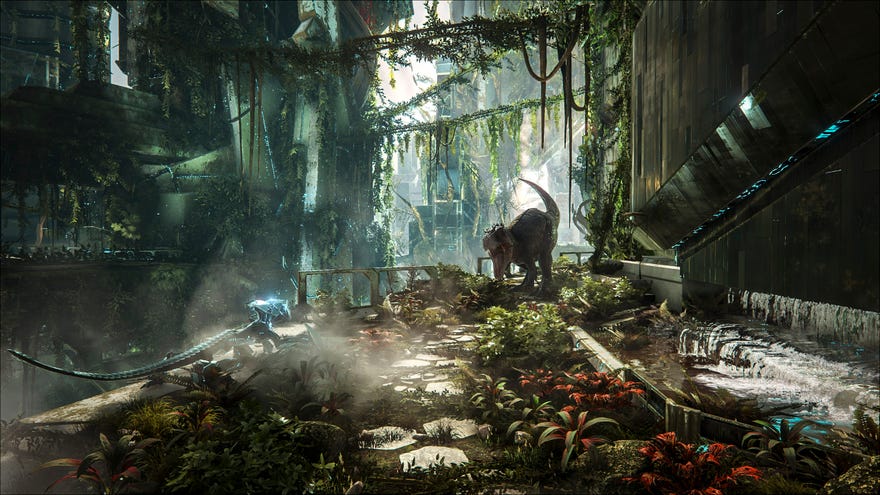 Dinosaurs walk the Earth again in Ark: Survival Evolved's third expansion, Extinction, which launched today. After bouncing around biodomes and comets and other strange habitats, the survival sandbox is coming home to Earth, where... oh no. You maniacs! You blew it up! Ah damn you! God damn you all to hell! Unless the T. rex roaming the streets of a futuristic city in that ↑screenshot is just someone's pet, and the greenery overgrowing the buildings is just stylish planting, in which case I apologise and compliment you on the future you've created.
As well as obviously adding a new land to Ark, Extinction will bring new creatures, enemies, and items. Expect to meet creatures including a giant sloth, a big ol' snowy owl, a type of raptor which fires quills like a machine gun, chuffing great elemental Titans, mechanical drones, "corrupted" versions of old pals, and big fat hairy caterpillar-y... things... which can inflate to launch themselves into the sky and fly? Whatever you are, Gasbag, I like you.
I've always enjoyed discovering how Ark turns historical creatures into game-y monsters, coming up some some weird unique abilities, but the fictional ones are even better. What a great critter. I have no idea if the Gasbag is useful but... look at it.
Ark: Extinction is out now on Steam for , or comes with the Aberration and Scorched Earth expansions in the season pass which is down to £23 on sale right now. This post has more details on how the launch works.
Extinction is the final Ark expansion planned as part of its Season Pass. Given that the game is still one of the most-played on Steam, I wouldn't be too surprised to see Studio Wildcard go on to more. Fraser Brown will tell you Ark is one of the best survival games, though our Ark: Survival Evolved review did say it's grindy to the point of tedium.
Ah, you can see for yourself right now. Ark: Survival Evolved, the base game, is free to play in full through Steam until Sunday the 11th. It's on sale for keepsies too, down to £18/€20/$20. The season pass is also discounted down to £22.74/€25.99/$29.24, and Extinction by itself is £15.49/€16.79/$20.