Art Failure: Action Painting Pro
The colours and the shapes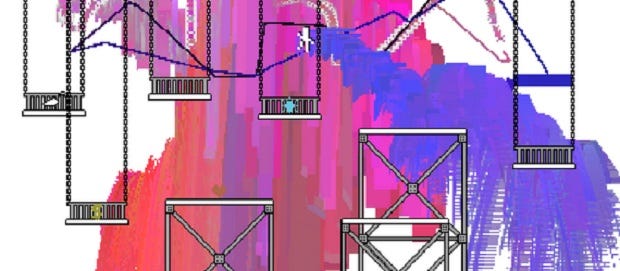 Action Painting Pro is a platform game in which the screen becomes a colourful mess as each playthrough works toward its conclusion. Different types of brush can be collected and paint spews from the player in an appropriate pattern, the colour changing as objects are collected. To survive and continue with your masterpiece, you'll have to manage three resources by springing around the screen across the scaffolding that shifts position after every pick up. The resources are hearts (health), dollar signs (money) and artistic abillity (blue diamonds?). All three are effectively time limits that must be regularly topped up, which creates a nerve-jangling pressure that is only heightened by the nightmarish soundtrack.
The trailer doesn't actually demonstrate the variety of drawing tools very well - it's not all cascading psychedelia, there are ink lines and explosive blotters as well.
As for the game, it's free to download and if enough of you do so, we can create a gallery of creations. I have two masterpieces to share - the first, I call The Dragon (or The Sea Serpent).
Yeah! I didn't intend to draw a perfect dragon (or sea serpent), it just turned out that way. If you pay close attention you'll notice that the body's two humps are the trail of a platform character jumping to the right. The head was created when I collected a spraycan or something and my green expulsions somehow crafted a perfect visage, complete with an eye that is very much a window to the reptilian (aquatic or otherwise) soul behind.
It's beautiful.
Painting number two is entirely different. I'd survived for about ten minutes, my longest run to date, and realised that I'd become anxious about the possibility of failure. I was desperately collecting items, avoiding the things that I didn't need in order to map a route to the tools of survival. But to die is not to fail. The greatest failure would have been to ruin the image that was emerging behind the platforms, the accidental artwork that had taken form.
My second masterpiece. I call it The Bespectacled Spectre.
Sorry if that blew your mind. The green area in the centre is the wailing mouth of the cream-coloured ghostly figure, which is wearing white spectacles. Do you see it now? Of course you do.
Via the exquisite Electron Dance.