Asemblance: First-Person Horror Announced
Scary with one 's'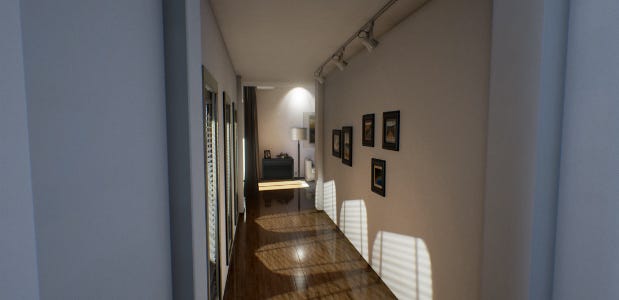 Besides being misspelled, Asemblance [official site] is an upcoming first-person psychological horror game from Nilo Studios - a newish crew of ex-Bungie, Monolith and Visceral bodies - that's set to launch its first episode next month. As far as I can gather, its story is centered around a memory simulating machine that you're trapped inside/forced to view the world through without immediately obvious reason. "What do you remember? Do you remember your home? Your wife? How you met?" it asks. "Are you sure you want to remember?"
Inevitably, you won't want to remember - this is a horror game after all - but, inevitably, that's exactly what you'll be forced into doing. I imagine. Because this is a horror game, after all.
Inspired by television shows such as The Twilight Zone, The X-Files, and Black Mirror, and games such as PT and The Stanley Parable, Nilo note their desire to capture a narrative that keeps players guessing, one where "you're never quite sure what's real or what's not", via a post on the PlayStation Blog. (Yes, it is coming to PC too.) This announcement trailer offers a glimpse into what to expect:
Creepy. Beyond that, though, there's not an inordinate amount to go on for the moment. "We're just about done with development and are currently optimising the game, polishing the audio design, and adding the final touches to the game's multi-layered narrative," say Nilo, while the Asemblance website offers "May 2016" as the first episode's ETA.