Assassin's Creed Chronicles: China Swings Out Today
Out of <em>hiding</em>, that is. Swish!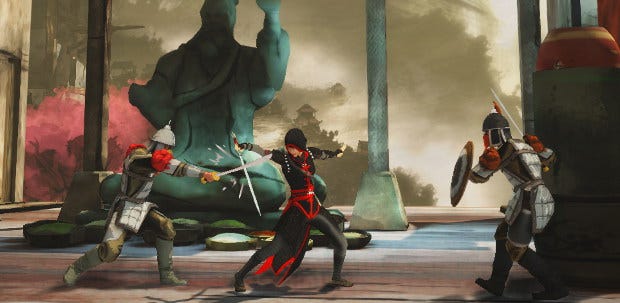 It's possible that you might, in the fifteen minutes between the release of each successive Assassin's Creed game, forget that Assassin's Creed exists. If that's the case, Ubisoft have a remedy: more Assassin's Creed games. The Assassin's Creed Chronicles is a 3-game 2.5D series that was announced earlier this year and the first is out today. Assassin's Creed Chronicles: China [official site] has a launch trailer and it's below.
Chronicles: China is in 2.5D, trading the constantly-misinterpreted-controls of the main series' 3D parkour in favour of a flat view and only occasional switching or rotating of planes. It looks like an appealing cross between Trine and Mark of the Ninja. Or, if you like, it looks like Assassin's Creed's previous 2.5D handheld games.
Although Chronicles is a series of three games, each will have its own hero, setting and art style. While China is set in 1526 and stars female assassin Shao Jun, who swings and stabs against watercolour-on-parchment background paintings, the next two games will be set in India in 1841 and Russia in 1918 respectively. Alice wrote about an earlier trailer last month which featured brief glimpses of all three games.