Asylum Jam Returns To Challenge Mental Health Stigma
To run November 6th-9th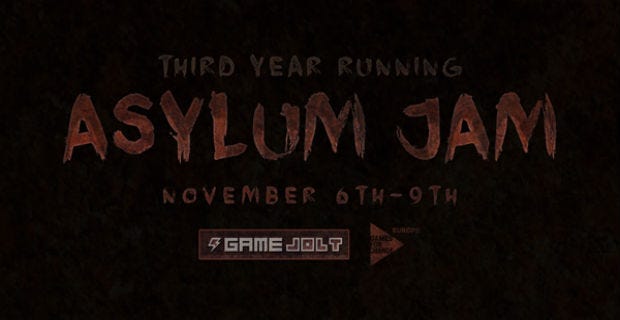 Asylum Jam, a 48-hour game jam to promote mental health, is back for its third consecutive year. Against the tide of misinformed tropes and unfortunate allegories consistent with popular culture that suggest mental health is something to be feared, Asylum Jam asks participants to design horror games that break from such associated stigma.
We've all played them - horror games where the setting is a mental health institution, where its patients are obstacles at best and villains at worst, where we're expected to fear mental illness. Given that issues of mental health affect a lot of people - one in four British adults per year - making games that incorporate these themes in their horror narratives seems like a pretty damning assessment of the human condition. Perhaps it's time to reevaluate, no? That's where Asylum Jam steps in: to convey scary horror games minus the stereotyping. Over the last two years, the jam has accrued more than 100 games that have been enjoyed by its community and beyond, as well as prominent YouTubers, such as Markiplier and PewDiePie.
"Asylum Jam has been received almost totally positively over the past two years, with developers from all over the world coming together to create some fantastic horror titles for a good cause – fighting harmful stigma in our media, and exploring the amazing genre of horror," creator Lucy Morris told RPS. "We've had procedurally-generated horrors, beautiful visual novels, point-and-click hororrs – the works – and we're excited to see what we can do this year. We're being supported by Games for Change Europe and Prescription Pixel this year, and we're also hoping to connect more solidly with the fantastic horror Let's Play community so we can get a bunch of neat horror titles out in the open to play this November."
Morris continued: "For me personally as an organiser, the 2014 Asylum Jam onward became even more crucial for me to make happen as I lost my stepsister to suicide a month before the previous jam happened in September. Stigma prevents people from reaching out and seeking help; it makes people feel ashamed and embarrassed. Media perpetuates a lot of this stigma in the form of inaccurate and sometimes harmful stereotypes, and that's what Asylum Jam is here for – to explore horror gaming outside of tired, negative tropes and test the limits of what we can do as horror game developers."
Asylum Jam 2015 will be hosted by Game Jolt and will run for 48 hours November 6th-9th.