Attracktive: Data Jammers FastForward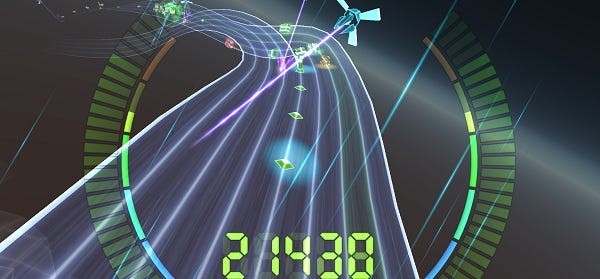 New from Digital Eel, the wonderbrains behind Weird Worlds and Strange Adventures in Infinite Space, Data Jammers: FastForward is reminiscent of all that is good in the world. Or at least some of the things that are good in the world, like Tempest and speeding through cyberspace. The demo of this wireframey hacking-as-racing delight has been entertaining me for the past few minutes and the full version, available for $9.95, is clamouring for my attention. But my attention is needed elsewhere, so I leave it to others to discover its myriad joys. Observe the trailer, with obligatory posh-voiced computer lady.
The official website describes the world as 'glowrific' and I can't argue with that. My initial thought was that I'd be memorising track layouts and enemy placement but to my great joy, randomisation occurs, which makes things far more exciting, if perhaps less exacting. This is very good indeed and I strongly recommend a dabble with the demo.