Cameroonian Devs Release Aurion: Legacy Of The Kori-Odan
In the 'Tales Of' style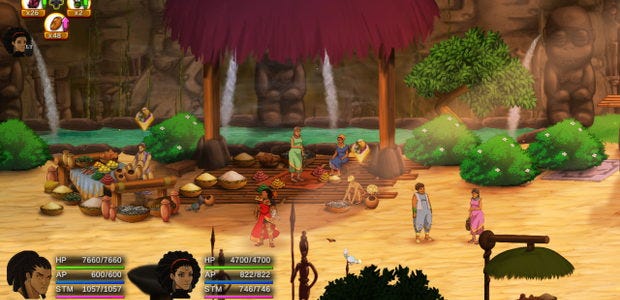 Cameroonian studio Kiro'o Games have released Aurion: Legacy of the Kori-Odan [official site], a side-scrolling action-RPG inspired by African myths and culture. It's also about duffing folks up with flashy combos, zipping all over the place and giving them good hard whacks - it's looking strong on the action side of action-RPG, a bit of a beat 'em up in the 'Tales Of' style.
I'm keen to get a look at cultures and places we rarely get to visit in video games, but I'm also into the idea of beating people up real good. Here, this video from the devs focuses on the combat, showing plenty of air-dashes and elemental poundings:
As for its inspirations, Kiro'o say they've tried to create an "African fantasy game". It's certainly not the usual repackaging of Medieval Europe. They explain in a forum thread:
"We have used Egyptian, Malian, Cameroonian and Ethiopian mythologies for the most. But we wanted the game first of all to be a magnification of them. Like Heroic Fantasy is based on myth and legend but mostly thought to be fun in entertainment. we made here an African-Fantasy game. The first purpose of it is to be fun and interesting at the same time for almost everyone, not only for Africans. and we are all first of all gamers and mangas/comics reader and we wanted a game we'd love first.

"And don't stop to the pictures, what really makes this game African is the fact that, we, Cameroonians made it, and the writing style it has is mostly based on our living."
Several Steam player reviews complain about poor translation - the devs' primary language is French - but Kiro'o hope to have an improved English version out next week. They've explained that some of the text isn't final, as translation was taking a long time so they focused on the main quest parts first.
A 15% launch discount makes Aurion: Legacy of the Kori-Odan £12.74/16,99€/$16.99 on Steam until next Thursday.