Speedrunning mega-marathon AGDQ 2018 starts today
Prey for a quick death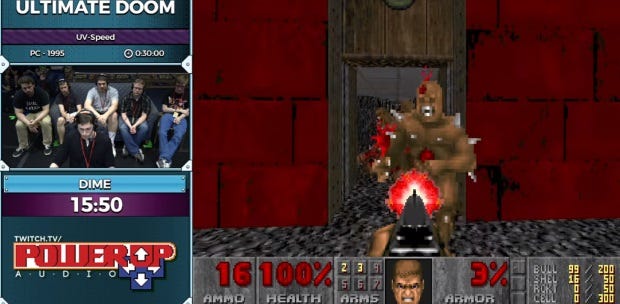 The Games Done Quick events are among my favourite parts of the gaming calendar. Showmanship, absurd levels of skill and a mountain of cash raised for good charitable causes for a week straight, twice a year. The winter event - Awesome Games Done Quick - starts this afternoon at 4:30 GMT and if you've never tuned in to watch one of these live on Twitch (or recorded on YouTube), then you're missing out
While traditionally console-centric, recent years have seen a far higher percentage of PC titles (especially smaller indie games) demolished live, and the schedule for this coming week's event looks to be continuing that trend.
Handily, the schedule also auto-adjusts itself to your time-zone, and will be updated as anything changes due to a run ending unexpectedly early or late. While the first day is relatively light on PC games, we do at least get to see the notoriously breakable Skyrim abused horribly and completed in an estimated 50 minutes or less. While not quite as easy to smash into a billion pieces as Morrowind, there's still plenty of strange little bugs to be exploited.
Night-owls and insomniacs should check out the block of games beginning with Arabian Nights on Thursday early morning. The fan-favourite Awful Games Done Quick segment features some of the most spectacularly broken games (and Sub-Terrania, which I still insist is underrated), and tends to involve some of the most amusing commentary of the event, along with the highest potential for things going horribly badly wrong.
Thursday also contains one of the higher concentrations of PC games, with Arkane's Dishonored getting thoroughly taken apart, with an estimate of just over an hour to complete the game with 100% of collectibles. That means stripping every map completely bare, so expect to see a lot of fast movement; much of it ignoring walls and map boundaries entirely. Arkane's excellent Prey follows up next. Normally a 20 hour game, but if you're willing to abuse the Gloo Cannon enough, you can race to the end credits in 15 minutes or less.
The final day of the event is going to be RPG-centric (as is traditional for AGDQ finales) but running Mass Effect, Warcraft 3, Diablo and Baldur's Gate back to back gives it a fresh, much more PC-tinged flavour. It'll be interesting to see whether this trend continues into the summer event later this year. Sadly, no Doom this time.
So, what are the runs that you're personally tuning in for? Plan on just having the event playing in the background for days solid?