Send In The Clowns: Bad Rats 2 Released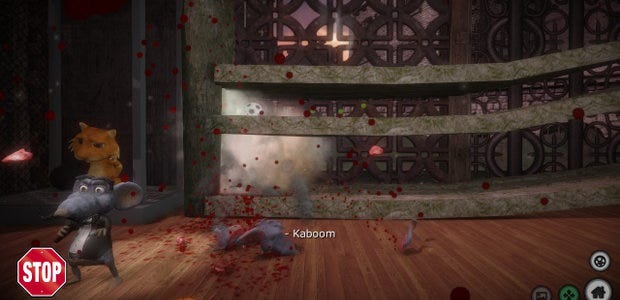 You know, I never actually played Bad Rats. I don't think I even accepted the gift when it was offered. Y'see, for several years the physics puzzler was the gag gift of choice on Steam, with thousands of copies given as jokes. It's weird-looking, pretty shonky, cheap, and named Bad Rats - somehow making it the gaming equivalent of neckties with kooky prints or fart-scented soap. I don't know.
Hilarious pranksters may now kick their japery up a notch, as developers Invent4 Entretenimento today released a sequel: Bad Rats Show [official site].
As before, Bad Rats Show is a puzzler a bit like The Incredible Machine. On each level, you need to arrange a strange chain of objects to complete a goal - killing a cat in some way. You have a lineup of gifted rats, like a baseball player with a bat to hit balls, a rocketrat strapped to a firework, a human (rodentine?) cannonball, a smoker who wheezes, and so on. You can also place items, things like crates, trampolines, and balloons. Combine them in wacky ways to trigger a machine to kill a cat. In theory.
The first game was fiddly and buggy, and I've no idea what this is like.
In terms of newness, Bad Rats Show brings 3D levels and a level editor.
The idea of games as gag gifts is a bit weird and unpleasant to me but hey, it looks like Invent4 are taking it in good humour. I suppose people are finding the game funny, one way or another - and they do pay for it. By now the gag is more about the legend of Bad Rats than the game itself, too.
Bad Rats Show is on Steam at a launch price of £3.39.