Barbie Queue: Liferaft: Zero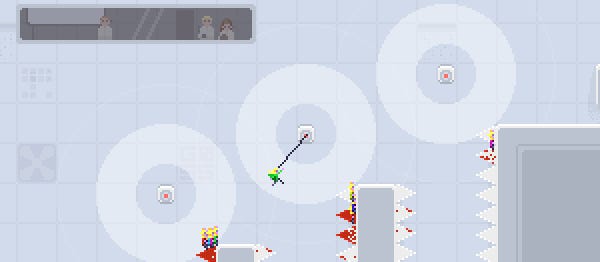 The torrent of excellent browser games never stops! Not even for GamesCom. Indie Games posted about Liferaft: Zero last week, and it's tricky bit of platforming with an excellent, Portal-like atmosphere. You play an endless series of cloned, acrobatic girls, and do your best to steer them towards candy and away from certain death. Your best won't be good enough, but it's more messed up enough to justify a play. Video after the jump.

If I'm honest, it's ludicrously fiddly. Fiddly like performing open heart surgery, in the dark. On a cat. While wearing oven gloves. It could be that I suck, of course, but I doubt it. There's a great deal of pixel-perfect jumping required, and the grappling hook's mightily counterintuitive.
Luckily, it's also pacy enough that it lures you into attempting levels a dozen times in a row, which is usually enough to complete them. Overall the experience is about as frustrating as a platformer can be while remaining enjoyable, but don't take my word for it. See for yourself.