Battle.net client beta adds groups with voice chat
And one anti-social feature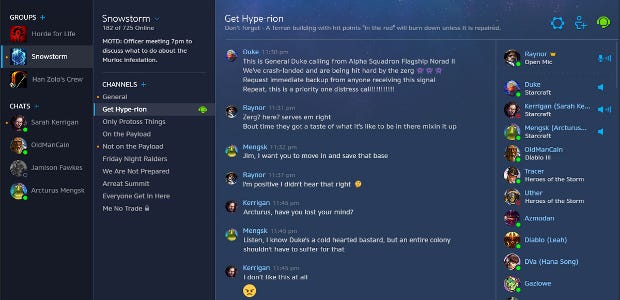 Blizzard have rebranded their online platform twice in the space of a year. First, they killed off Battle.net, making it more Blizzard-y by naming different features things like Blizzard Voice and Blizzard Streaming. But that was silly. So they decided to change it again, this time to Blizzard Battle.net. None of this mattered to anyone, however, since the platform itself remained unchanged. Until now. It's time for some new social features, including the ability to make groups with their own voice chat channels.
I say social features, but the thing I'm really glad to see added to Battle.net is actually more anti-social in nature. Yes, finally we'll be able to set our status to offline, and that's great. In this brave new world, we'll no longer be pestered while we're dying repeatedly in Overwatch or finishing up dailies in World of Warcraft. This is the next best thing to simply getting rid of all the people.
This is joined by a social tab that squeezes chat and group features into one place. And speaking of groups… well, you'll be able to make them now. This is the opposite of what I want, but I imagine it will be handy for guilds, clans and cults. These groups will be able to use multiple chat channels, for both text and voice, along with administrator tools.
Finally, there's your customisable profile, where you'll be able to choose an avatar, add links and tell the world a little bit about yourself. "Hi, I'm Fraser. I like short walks, poems about whisky, and not being bothered by people when I'm trying to play Overwatch."
To use these new features, you'll need to switch to the beta client, but that's easy. Simply select "Switch to Beta Version" in the betas tab of the settings menu.
Looking at it, I'm reminded of Discord. The way groups in particular are structured is especially evocative of the app, though Discord obviously comes with the benefit of not being attached to a very specific and small set of games. Still, these are very welcome changes. What else do you fancy seeing added to Battle.net?