Mad Max-ish battle royale Fractured Lands slams into early access next week
100 mans enter, one man leaves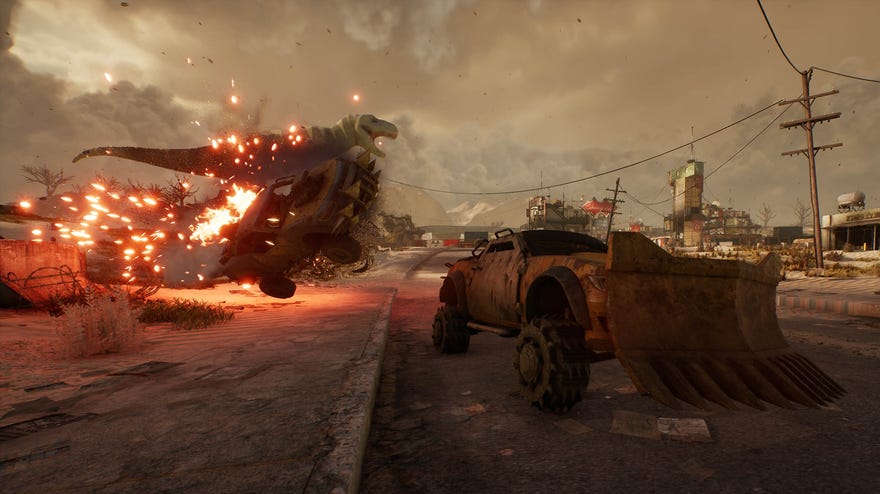 Unbroken Studios's last-man-standing shooter Fractured Lands has earned my attention. Putting a Mad Max-inspired spin on an otherwise-familiar battle royale formula, everyone starts with their own ride. Assuming you can keep it fuelled, over the course of a match you can bolt on guns, spikes and additional armour to keep it rolling. After a brief run of closed testing, it's ready to launch into early access next Tuesday, July 31st.
While the Fractured Lands trailer below focuses more on the vehicular side of the game (including car-mounted weapons) the actual combat dynamics of the game might be a little more battle royale boilerplate than the video suggests. After looking up some recordings from the recent closed testing events, I can't help but notice a familiar focus on scoped rifles and there's seldom a shortage of ammo. As with Playerunknown's Battlegrounds, many encounters involve any driving players stopping or maneuvering into cover before hopping out so bullets can be traded.
I acknowledge that people love the option to pop heads that are only three pixels wide from half a mile away. Still, I feel that having so many long guns and plentiful ammo might be missing out on a lot of what people would want from a Mad Max-inspired game. Avalanche's own take on Mad Max had it right, in my opinion, with shotgun shells rarer than water, and sniper rifle bullets to be treasured and hoarded. Sure, you COULD shoot someone, but you were usually better off using a knife or just your bare hands. It's a dynamic I'd love to see explored in a battle royale, but I don't think it'll be this one.
Fractured Lands enters Steam Early Access for $19.99 (regional pricing yet to be announced) next Tuesday, July 31st