Battlefield Hardline Multiplayer Open Beta Next Week
Pow pow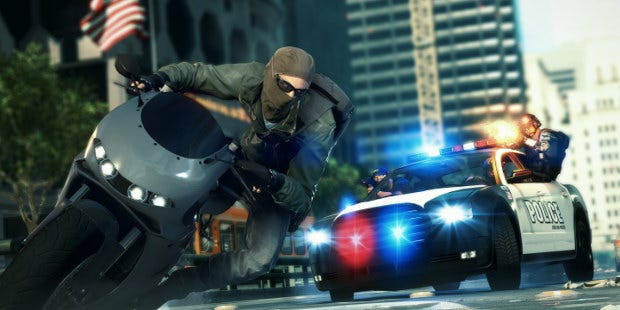 Several years ago, I had a meeting with EA and pitched Battlefield: The Thin Blue Line, an FPS adaptation of the '90s Rowan Atkinson sitcom. [Did you now? -ed.] Players would engage in gossip, give young shoplifters stern talking-tos, and even bop a yob with their truncheon. The final mission would be to sneak a big frilly bra into DI Grim's office during a surprise inspection from the Superintendent. Unfortunately, EA instead picked up Battlefield Hardline [official site], a quick-drawing, dirty-talking, civil rights-ignoring celebration of police militarisation. Shame. I bet it doesn't have even one single cascade of misunderstandings with hilarious consequences.
The point is, EA are launching a short multiplayer open beta test for Hardline next week.
Running from February 3rd to February 8th through Origin, the multiplayer beta will include three modes across three maps, EA explain in a blog post. Hotwire mode sees robbers trying to nab certain cars from the level while cops try to repossess them, Conquest is ye olde Battlefielde point-capturing and spawn ticket-reducing, and Heist mode will have the baddies trying to rob a bank.
The beta is expected to be a 10-11GB download, which folks should be able to preload starting at 10am PST (6pm UK time) on February 2nd. If you have Battlefield 4, playing the beta will earn you a special Hardline tag to wear in BF4.
The full game's due in March, after a long delay, on the 19th in North America then a few days later elsewhere.