Beat Nebula Has You Drumming For Your Life
Drum the pain away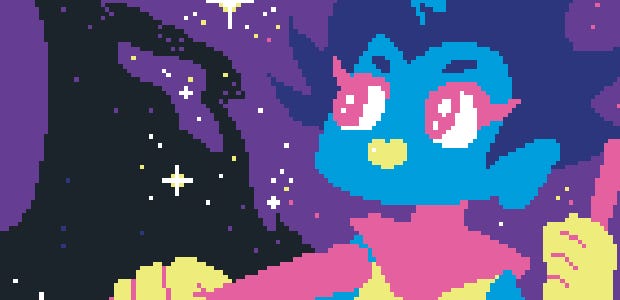 If you've got a Donkey Konga or Taiko Drum Master controller laying around, then Beat Nebula [official site] is ready for you to put them to good use. Beat Nebula was made by TJ "Kyatt" Cordes for the QaziJam8 game jam and makes use of the oft-neglected (maybe for good reason) drum controller class of peripheral.
You will need to do a bit of finagling to get your drum controller ready for Beat Nebula (or you can just use your keyboard). First, you'll have to plug it into a USB port on your PC, and then you'll have to use one of the various joy-to-key apps to assign the controls to the drum heads. Once you've done that though you're ready to destroy cute comets and dodge lasers by drumming to the left to fire left, the right to fire right, or both at the same time to jump.
The color scheme for Beat Nebula has a limited color palette which is pretty much the same scheme that every vaporwave album cover ever uses. It's quite fetching to the eyes and gives this already unique little game ever more of a personal touch.
If you want to drum your way to paradise, you can pick up Beat Nebula pay-what-you-want on Itch. It's a fun way to pass thirty minutes and it gives you an excuse to give those lesser-used peripherals a good working out.