Caledonian Antisyzygy: Beeswing Is Now Available
Memories of Scotland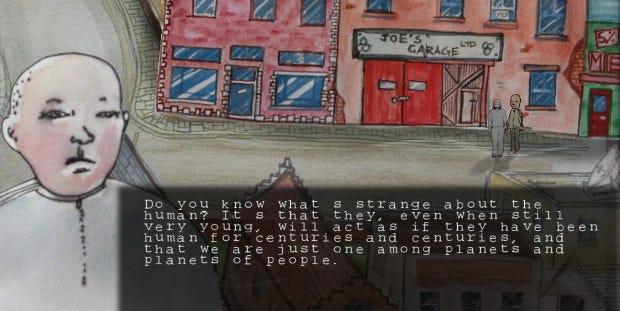 I haven't been back to Scotland, my motherland, for a long time. Beeswing is a game about small-town Scotland released a few days ago. It is written in snippets of philosophy and folklore. It is told through hand-drawn maps and gentle guitar strokes. It is Final Fantasy on a small scale, in the spirit of Yumei Nikki, hand-illustrated and studded with the kind of Scottish duality people don't talk about any more. In Beeswing I feel acquainted with death, but not in a morbid way. In Beeswing I feel like I am home in summers of Loch Lomond watching bees suckle pink flowers and dance between the heads of heather. I wanted to call my mother at a point, in fact, a thing I forget to do but Beeswing tattooed it into my consciousness. Beeswing sent me home.
Probably the part where I cried and wanted to call my mother was at the part where you can walk up to a part of the garden and look at the flowers, and the dialogue box informs you that you are looking at some thyme, and thyme in Scotland symbolises virginity, and there's a saying "don't let any man steal your thyme", and I wanted to ask my mother about it. I wanted to ask her if my grandmother told her that. I think this is the kind of game this is. It is a narrative-based RPG of sorts, but the narrative is... of other people. Of the need of the Scottish to wander like I do now. Of transcription. Of making a record. Of the stories you grow up around. About listening.
I guess the implication is that if the game is about listening, then it is also about being thoughtful. I think about the stories characters tell in this game. Each of the characters have their own problems, and they are serious problems that I think I'd wrongly associate with big cities, like Aberdeen, the Scottish city I grew up in during the oil boom. Aberdeen is a city that has all the grace of a kid gorging himself on cake, except the cake is oil, and the kid is rich people, and the separation between rich and poor is sometimes so acute there I feel very uncomfortable in Aberdeen's expensive establishments whenever there is some sort of formal event. The influx of Polish families was something Aberdeen was coping very badly with when I last visited, though Aberdeen was of course happy to see the Polish boost the economy. I remember helping out in a school where teachers were struggling to get by with only one Polish classroom assistant.
But small Scottish villages are trying to cope with similar issues of change and poverty. The smaller kind of places my mother, my aunt and my grandparents grew up in also need to adapt.
When I want to delight my American friends I tell them my aunt and uncle used to live in a Fife town called 'Auchtermuchty', where the 'ch' sound is a gutteral noise that sounds strange to other English speakers. Sometimes, I say, we just called it 'Muchty'.
The concern about change and the onset of time is something that weighs greatly on every word in Beeswing. The friction between tradition and modernity. The passing of time through storytelling. Jack King-Spooner touches on Polish connections in conversations in Beeswing. He touches on memory, remembering. It all reminds me of George Mackay Brown's wonderful book 'Greenvoe', and I'd be surprised if Jack King-Spooner hadn't read it.
Do you know, sometimes I overuse the word 'profound', and I used to think it was because I was encountering particular things, but it isn't. It is because I am from Scotland, and that means an old man on the park bench can tell you something that will change your life, just like in this game. Remember Duncan Fyfe's The Dogs of Summer? That experience is so familiar to me. That experience of the absurd and profound together. Scottish people see both meaning and humour in everything. The world made up in stories like Celtic knots.
God, imagine that we could preserve our grandmother's stories through games. Imagine that we could preserve whole lost cultures for the future. Imagine that we could preserve how things used to be through games that have maps drawn from memory. Imagine I could preserve my grandfather's warnings about Kelpies through sounds and hand drawings like Jack has done.
The soundtrack: the soundtrack is wonderful. Jack scores the game himself.
And if you haven't played Jack's free game Blues for Mittavinda, well RPS, I just don't know what you're doing.
Beeswing is available to buy here for a small fee, and it comes with the soundtrack too. And yes, I did want to use the word 'antisyzygy' in the title, because I have read some books and I want to prove it.