BenQ's EX3203R monitor joins AMD's FreeSync 2 HDR ranks
Another HDR display is on its way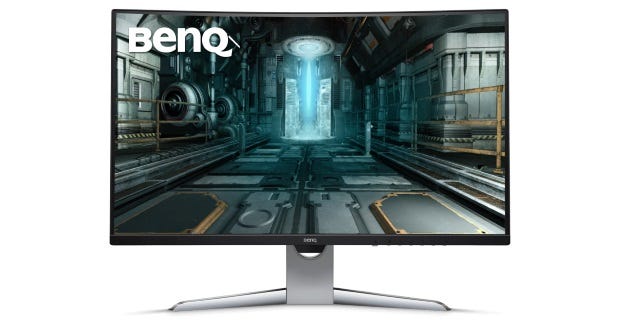 After much weeping and gnashing of teeth and disappointing first looks, proper, honest to goodness HDR finally looks like it's about to become a reality on PC. We've already seen how AMD's FreeSync 2 tech made the Samsung CHG90 one of the best gaming monitors I've ever tested, and it's shortly going to be joined by the rather stunning Nvidia G-Sync HDR-enabled Acer Predator X27 and Asus ROG Swift PG27UQ over the coming weeks as well.
I'll have more words on those two Nvidia monitors in the next day or two, but those on the FreeSync side of the HDR fence need not fret about being left behind, as AMD have announced another new addition to their FreeSync 2 roster, this time in the form of the BenQ EX3203R.
To recap, HDR (or high dynamic range) is an enhanced bit of display magic that produces more vibrant and life-like colours, brighter whites and darker blacks, making an image look much closer to how we perceive it in real life than your average display. An easy way of thinking about it is to think of a funnel. If the long thin bit is how many colours you're getting on a standard display, the wide, outer rim is how many you're getting on with HDR.
Not all HDR displays are created equally, however, as a large part of their overall impact comes down to two things: the bit-depth of its panel (the best HDR displays use 10-bit panels rather than regular 8-bit panels) and a screen's maximum brightness, as the brighter things are, the more vivid we perceive them to be.
This is why both AMD and Nvidia's new HDR standards - FreeSync 2 and G-Sync HDR respectively - have their own certification processes so you know exactly what you're getting if and when you decide to buy one. From the look of the BenQ's EX3203R's specs, however, it would seem Nvidia's HDR standard is a lot more stringent than AMD's, as the EX3203R's curved 31.5in VA panel only has an 8-bit colour depth and a peak brightness of 400cd/m2.
The latter figure may well be a typical brightness figure you'd see in everyday use (it's hard to tell from BenQ's rather vague spec sheet and I won't know for sure until I get one in for testing), but it's a little worrying nonetheless.
Still, with a claimed DCI-P3 colour gamut coverage of 90% - the very same DCI-P3 percentage touted by your fancy Ultra HD Premium-certified TVs - the EX3203R certainly looks like it will have colour accuracy on its side, and a refresh rate of 144Hz is pretty nice as well. Bundle that in with a resolution of 2560x1440, a USB Type-C port, a height-adjustable stand and all the flicker-free / low blue light options you'd expect on a high-end monitor to help keep eye strain to a minimum (not to mention everything else that comes with being a FreeSync display like adaptive frame rate technology and stutter-free gaming), and there's certainly a lot to like here.
What's more, specs like this imply the BenQ EX3203R will be a heck of a lot cheaper than either of Nvidia's G-Sync HDR monitors (which I've been told will cost at least $1000 when they launch either later this month or in early June), and it will hopefully be a much more affordable entry-point into this snazzy new dawn of display goodness than anything else I've seen so far.
I'll be able to give a more thorough verdict once review samples become available (which should be 'soon' according to AMD), but for now it's certainly one to keep an eye on if you own an AMD graphics card and don't fancy forking out £1075 / $1100 for the Samsung CHG90.