Have You Played... Quake III?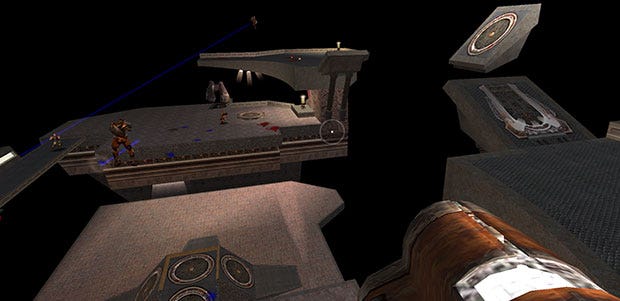 Have You Played? is an endless stream of game recommendations. One a day, every day of the year, perhaps for all time.
Specifically, Quake III DM17: The Longest Yard, which is what I think of whenever I think of Quake III. Every Q3A player has their favourite map, and I'm not even making a claim to DM17 being the 'best' map, but it's my map. It's the one which encapsulates what Quake III is about, to my mind.

And what Quake III is about is: JUMPING! RUNNING! CONSTANT MOVEMENT! NEVER BEING SAFE! CAMPING IS SUICIDE! PREDICTING THE ARC OF OTHER PLAYERS' MOVEMENT! THE RAILGUN THE RAILGUN THE RAILGUN.
There are other weapons scattered around DM17's facing worlds (ooh, cheeky), and there's a lot to be said both heralding your descending arrival from a graceful jump with a leading rocket, or for a perfectly-time shotgun blast at a passing back, but really The Longest Yard is a railgun battle.
This was the map, wide-open and characterised by superheroic trampolining, in which you honed and honed and honed your skill with Q3A's insta-kill sniper rifle. Enemies as mere dots against the night sky, knowing trajectories and timings innately. It is a beautiful, beautiful thing if played regularly enough to reach this almost transcendent level of communion with the railgun, and it is lost so miserably quickly if this practice is not maintained.
I miss it, painfully so at times, but I don't have space in my life for it any more. It was possibly the only time I was really, truly good at a game. Probably the last, too. But I don't never need to replace it. I close my eyes and I'm there, jumping, sailing, railgunning.