Steam Charts: war dawns
Popular videogames for the IBM Compatible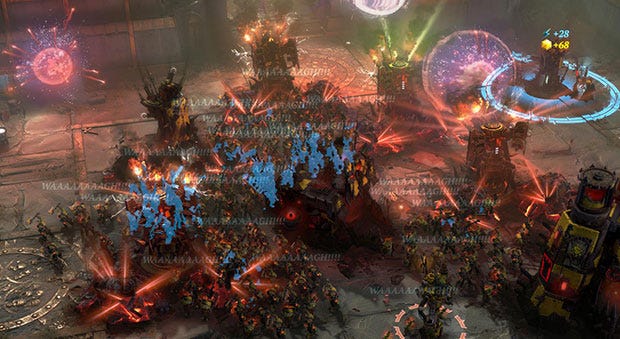 Did you know: the weekly Steam charts, in which we round-up the ten games which sold best on Steam over the previous week, are broadly the most-read articles on RPS these days?
That means I can never stop. Never. Stop.
My ancient enemy, we meet again. Have they patched savegame support into the hour-long first level yet? If not, then this is THE WORST GAME IN HISTORY no matter that literally every one else who's played it says the exact opposite.
Tom Clancy? Tom Prints Money, more like. This, The Division and Rainbow Six Siege make up a holy trinity of filthy lucre for Ubisoft, as they move away from the one-and-one traditional model used for their AssCreeds and Far Cries and into living games with seasons and a gazillion multiplayer gear options. And this, I'm sure, is exactly why Vivendi want to swallow Ubisoft whole.
Two NieRs this week. (Hey, if you say NieR NieR out loud it sounds like a police car!) I've been trying to work out why that is, and there are two possible explanations. One is that one of the entries is the recent 3C3C1D119440927 DLC (the one where you get to duff up the boss of Square Enix), but I'm pretty confident that it would be titled as such - and not terribly confident that it would sell quite enough on its own to crack the top ten.
The other is that, last week, Steam belatedly put up NieR: Automata for sale in Asian territories, and while it's still bought with exactly the same button as it is in the rest of the world, it's treated as a new release - and as such includes the time-limited Valve logo face decoration that was deactivated for non-Asian purchases back in March. I imagine that there are Westerners using VPN purely to get their hands on this. For how can any game possibly be enjoyable if one of its lead characters doesn't have a small red wheel stuck to their eye socket?
Just realised this is a completely different series to Sniper Elite. I've been a games journalist for 16 years now.
This one's modern-day-set rather than dubya dubya too, and is exploring Far Cryish open-worldy stuff to boot. Steam reviews are mixed, for what it's worth.
Last week, this was going toe-to-toe with PlayerUnknown's Battlegrounds, but this is quite a slip. Still making wheelbarrows of cash, naturally, but it's going to have to work hard if it wants to replace PUBG as the by-word for battle royale-'em-ups. Sounds like it's got plans to improve stuff people have been whingeing about though, like, er, making it so that if you shoot someone they actually got shot. Sounds pretty important?
I sold my damn website and I still gotta post about this every week? Jeez. That new microwave I'm planning to buy doesn't even begin to make up for this.
DOW3 does the pre-order/release split due to being released mid-way through last week. I gotcha Gork and Mork right here. Quite possibly Relic's latest tiny man-squasher would be number one if the two were sandwiched together.
Or maybe it wouldn't, given that Steam reviews are mixed, which isn't a happy state of affairs for a big new truple-ay videogame. Complaints centre mostly around a perceived lacklustre singleplayer campaign and a belief that too many MOBA values have been mixed in with the real-time strategy.
I'm too early on in DOW3 to be able to validate or dispute such grumblings, but I must admit that the two and a half levels I've played haven't awoken much of a blood-thirst in me. Early days for grim darkness, though.
I like the Waaaghs!, though.
Tailor-made for filthy rich YouTube am-drammers to fake-scream at, and as such a near-inevitable hit. Deeming it "another necropolis' worth of horror tropes in a splatterfest about apocalypse, antichrists and clashing cults", our Adam was not a fan, despite admiring it from a technical perspective.
The wild success story of 2017 sprints onward, and I don't see it slipping behind any time soon. I bet PlayerUnknown owns a lot of microwaves.
Gone from the list this week:
Ultimate Epic Battle Simulator
Halo Wars: Definitive Edition
Subnautica
Grand Theft Auto V
Arma 3