Who's Fighting Who (& When) In Bioshock 3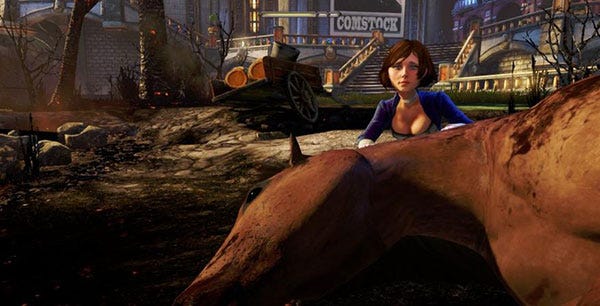 Well, obviously pretty much everyone's fighting you - it is a first-person shooter, after all. But there's also inter-factional conflict in 2012's Skyoshock, as one Mr K. Levine reveals below. What on earth could make the denizens of a rebel, militaristic, ultranationalist city in the sky turn against each other? Oh, riiiiiight. Also: time travel.

Little bit of new footage in that, I think, as well as a whole lot of scene-setting and a few demonstrations of how this is a populated city rather than a zombie one like Rapture.
Also, did you hear this stuff about the game featuring time-travel? 1-Up's preview from E3 reckons that Elizabeth's strange powers create rifts in space and time, which at one point sees the characters jump to an alternative 1983, where 'Revenge of the Jedi' is showing in cinemas.
Now there's a thing, and surely pertinent to the 'Infinite' in the title. Also sounds to me like a sure-fire way to include a wee visit to Rapture...