Unexpected: BioWare's 4v1 Online RPG Shadow Realms
Modern-day supernatural action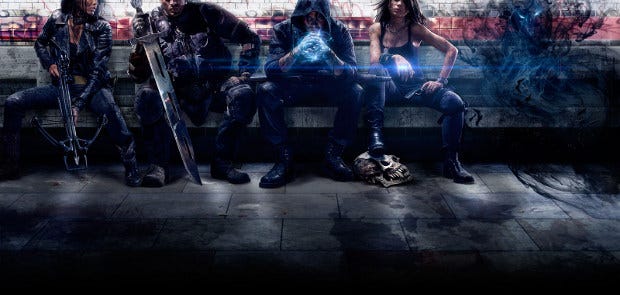 We were expecting BioWare's teased new game to be something a bit real-world-y with supernatural horror. We were not expecting it to be a 4v1 online action-RPG. They officially announced Shadow Realms during EA's Gamescom press event today and gosh, it is a surprise for BioWare. Think The Secret World's real-world-ish monster-mashing setting mixed with the evil overlord side of the Zombie Master mods.
Like The Secret World, it sees plain old people suddenly finding themselves amongst an old supernatural throw-down with modern-day wizards and knights. Four folks from the usual classes will dungeon-crawl through levels murdering monsters while that fifth player, the Shadowlord, tries to stop them. The Shadowlord can summon and possess creatures, lay traps, cast spells, and change the environment to hinder the heroes. It's inspired by ye olde tabletop roleplaying games with dungeon masters thwarting players, BioWare say.
And like tabletop games, it won't be a fixed thing. BioWare plan to release "cliff-hanger episodes" regularly.
I'm quite excited by this. More co-op games are always welcome, especially ones with a competitive side too. And Mass Effect 3 proved that hey, BioWare can actually make pretty fun multiplayer. I don't think anyone expected that either.
As EA seems reluctant to upload the trailer, for whatever reason, here's a streamrip: