Bird Strike: Curse Of The Chocolate Fountain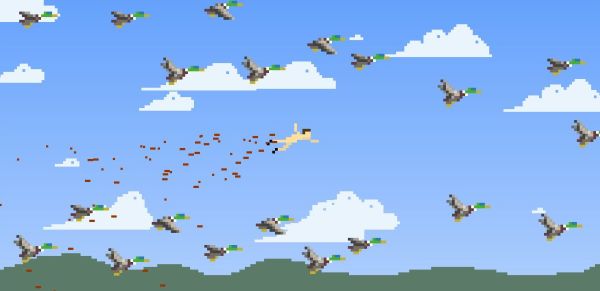 I adore the internet. All I have to do is tweet that there aren't enough games that cause me to shout, "Out of the way, duck!" and into my email comes another game that makes me shout, "Out of the way, duck!" And it prominently features poo. It's like my birthday, Christmas and a royal wedding all rolled into one. It's called Icarus Proudbottom In: The Curse Of The Chocolate Fountain, and it's about a man propelled through the air by an unstoppable spray of shit from his bottom. Dodging birds.
And they say games are immature?! Take your BioShocks and your Deus Exes, and put them just behind my little pixel figure showering butt juice across the world. The opening dialogue in this epic is my favourite ever:
"Holy wow! I can't stop making boom booms out of my bottom!"
I don't see Chris Avellone or Ragnar Tørnquist offering that sort of poetic prose. You get two lives, the first time you hit a bird causing you to lose all your clothes, then second time, death.
It's 20MB, it features a spirit owl as a guide, and it's your reason for owning a PC. Huge thanks to Bas for the tip.