Raconteuring Rabbit Men: Blackwood Crossing Revealed
Story supreme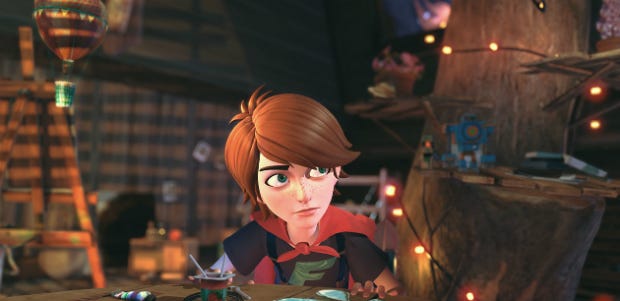 Blackwood Crossing [official site] is a narrative-heavy adventure about two orphaned siblings and a weird-looking rabbit-headed-human-bodied character. Richard Kelly's Donnie Darko has forever put me off peculiar, hallucinatory rabbit-headed-human-bodied characters, however this one looks a touch less menacing. Anyway, it's the first game from PaperSeven, who're a crew comprised of ex-Black Rock Studio folks. That's them fellows behind race 'em ups Pure and Split/Second Velocity. Which is quite the change in direction. Fancy a trailer? Let's have a trailer:
Whoops! Wrong one. Try this:
Quite a change of pace indeed, so much so PaperSeven are calling this their first "grown-up" game. Assuming the role of 14 year-old Scarlet, Blackwood Crossing explores the once-strong relationship between the protagonist and her 10 year-old brother, a bond that's now teetering as Scarlet enters adolescence. "As you gradually uncover the true depths of Finn's anguish the consequences of your remoteness become shockingly clear," reads the game's blurb.
Add that to the chance encounter with the mysterious Rabbit Man and it becomes pretty clear this ain't no ordinary train journey. It is a "magical story of life, love and loss," though, so say PaperSeven. Over to their co-founder Alice Guy:
"There's been some fantastic narrative adventure games coming out in recent times - we're hoping to take a place at this table whilst offering something different to what's come before. Blackwood Crossing is evidence of our desire to explore experiences with depth and meaning, and create characters that challenge the often clichéd gaming landscape."
Fancy it? If so, you'll be glad to know Blackwood Crossing is due for release at some point this year.