Blizzard: WoW, Overwatch, HotS And More Getting Facebook Login And Livestream Options
Network of the social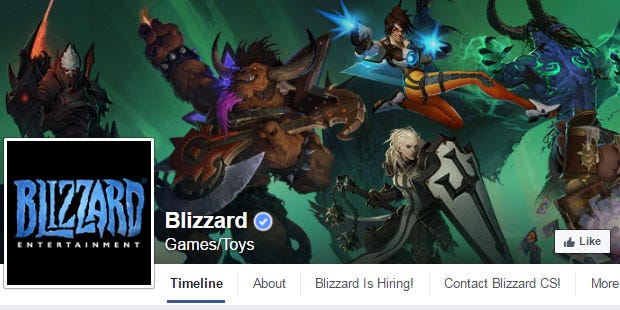 Blizzard have announced that players will be able to use their Facebook login for Blizzard's PC games starting later in June. Blizzard and Facebook have an ongoing collaboration but this will be the first time players can use their Facebook accounts to sign up or sign in to games like World of Warcraft and Overwatch.
Additionally, the companies will be adding the ability for players to use Facebook's native streaming technology to livestream their sessions to their Facebook timelines.
This doesn't surprise me because Facebook are actively seeking ways to keep people within their ecosystem. Streaming is part of that, as is instant articles, as is the thing where they're prioritising their native videoplayer (and trying to minimise Google-owned YouTube presence).
Are you going to use it, though?
Perhaps I'm asking the wrong people. Presumably PC gamers who are already playing the games and have a Battle.net ID are unlikely to switch to using a Facebook login, but the streaming stuff might be of interest?
I absolutely refuse to hand Facebook any more of my data. It gets enough from me using it as a basic social network and to do the things I need to do for the official RPS page [WHICH IS HERE, BY THE WAY BECAUSE I'M NOT ABOVE GIVING IT A SHAMELESS PLUG]. I mean, I'd actually prefer to pay money for services and eliminate the ability for those services to use my data beyond a minimum level but, in a world where that's not possible, I try not to give one company too much. I guess that's as stupid as saying I try to only do a small amount of bloodletting and I don't want one leech getting fatter than all the others.
Also, my dad once told me off on my Facebook timeline for using a swear in an article I'd written so I have no idea how he would react to a livestream of a frustrating game.
Here's part of the press release. It's kind of dry and marketing-y but worth reading because I think it's important to know how these services are being used to target consumers. You might like that idea because you get tailored services instead of a scattershot approach to products, or you might find it insidious and creepy. Maybe both.
"As part of the collaboration between the two companies, Blizzard recently hosted multiple livestreams via Facebook. The first series of streams centered on Heroes of the Dorm™, Blizzard's collegiate tournament featuring its popular team-brawler Heroes of the Storm. Last week, Blizzard hosted a livestreamed launch event for Overwatch on Facebook.

"'Blizzard has a passionate community of players, and an incredible track record for launching innovative and high-quality gaming experiences,' said Leo Olebe, global games partnerships director at Facebook. 'Our collaboration on Overwatch demonstrates Facebook's commitment to partnering with AAA game companies, while further empowering Blizzard gamers to connect and share the content they're most passionate about with the friends they play with around the world.'

"In preparation for the Overwatch launch, Facebook worked with Blizzard on a comprehensive mix of Facebook and Instagram marketing solutions—including Carousel ads, Canvas, and Instagram Marquee. Using the platforms' powerful targeting capabilities, Facebook helped Blizzard present the game to a broad set of gaming and entertainment audiences within Facebook's and Instagram's global audiences of 1.65 billion and 400 million people respectively. On Facebook, more than 650 million people play games connected to Facebook every month across web, mobile, and console."
Something I am interested in as Facebook/Blizzard push this streaming side of things is how the moderation does/will work. I hate using streaming services with a chat option because moderation is a thorny issue. At this point, I'd rather not have to deal with it personally so I just don't stream. I wonder if Facebook are doing anything interesting on that front?