eTouchdown: Blood Bowl 2 World Cup
Blood Super Bowl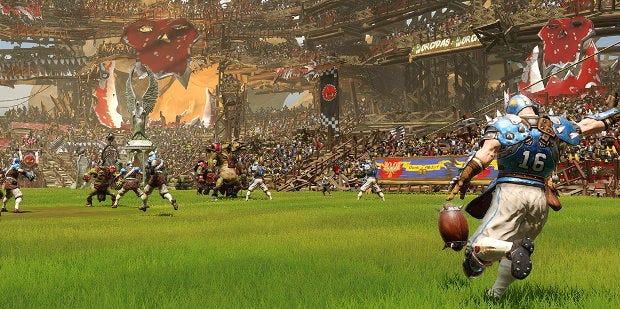 There's a Blood Bowl 2 [official site] World Cup for PC players. I'm partly writing about this because it falls under the esports remit but MOSTLY because I wanted to register my suggestion that the trophy be an actual bowl full of blood.
I feel like if I start talking about it publicly now there's a good chance someone will see and act on the idea. A BOWL OF BLOOD, PLEASE.
Blood Bowl 2 is a Warhammer/American Football mashup which plays out as a turn-based strategy game, if you'd not heard of it. My only time with the game was while attending a preview event for ebulliant RPS fanfic community, PC Gamer at the start of 2014. They were only 4 months in so I wasn't allowed to play but I did speak to the developers at Cyanide about eSports. Broadly, they were interested in fostering and encouraging a professional scene largely revolving around the creation of various leagues.
WELL, there is now a World Cup (a bowl full of blood, remember) which you can enter and maybe even win. Because winning will get you $10,000 and a bunch of other stuff. Including a bowl full of blood.
Here's the page where you can find out how you can take part and register, should you fancy it. The basic point is that there's an official World Cup qualifier and a variety of community qualifier leagues from which the best players will be chosen:
"The best 64 players of Blood Bowl will be selected among the participating private and public leagues, they will win their tickets and compete against each other during the Play Off in a dangerous yet exciting ladders competition."
For entrants, you need to check the individual community leagues for their rules and tournament dates/info. For the official ladder there are three seasons of play and the unique top 5 coaches each season will get through.
The finals will take place on 29 June 2016 and be broadcast on Twitch. I assume on Blood Bowl 2's publisher's channel which is here.
MAKE IT A BOWL OF BLOOD.