Bloodroots looks like Hotline Miami dialled up the American frontier
Roots for the root god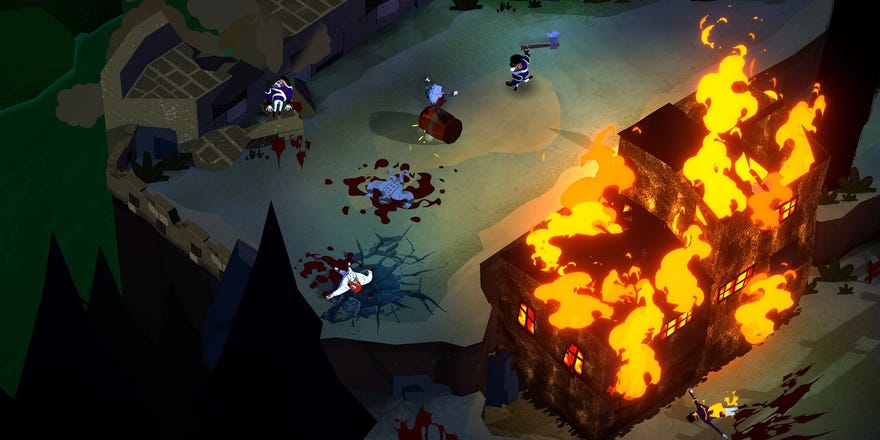 IN A WORLD where everyone important wears character-defining animal skins on their heads, one man must set forth on a path of destruction in search of the reason for his betrayal. It's not the plot that grabs me about Bloodroots, though. It's the slick Hotline Miami-esque clobbering in the announcement trailer below.
Yep, I want this under my fingers. I can take or leave the gore, but if hopping about from one murder to the next is half as satisfying to enact as it is to watch then that's by the by. Picking up a ladder, whacking someone with it then - in the same smooth movement - using it to jump over a wall is a fantasy I never knew I had.
I'm a big fan of hopping around with lethal mobility, and I'm glad to see it advertised as a core feature on the marketing blurb: "A world overflowing with tons of unique tools that not only change the way you fight, but how you get around."
The blurb also mentions deadly combos, leaderboards, varied hand-crafted levels and "a twisted Western revenge tale with a deranged cast of characters". Those would be these guys, who don't look nearly as fun as their headgear. Which isn't fun at all, now that I think about what those creatures were before they were hats.
I do enjoy the ways games come up with of distinguishing the plot-important folk from the riff raff. The best approach I've seen is in For Honor, where every major character is three times the size of a regular human.
Bloodroots will come out at some point in 2019. Here's its Steam page, in case you wanna wishlist it.